Encouragement for the Discouraged
A simple tag on Facebook caught my attention. A friend from many years ago posted a picture. It wasn't a photo of me, but of her Bible that she had rebound after falling apart from years of use. She tagged me because my name was written in the margin.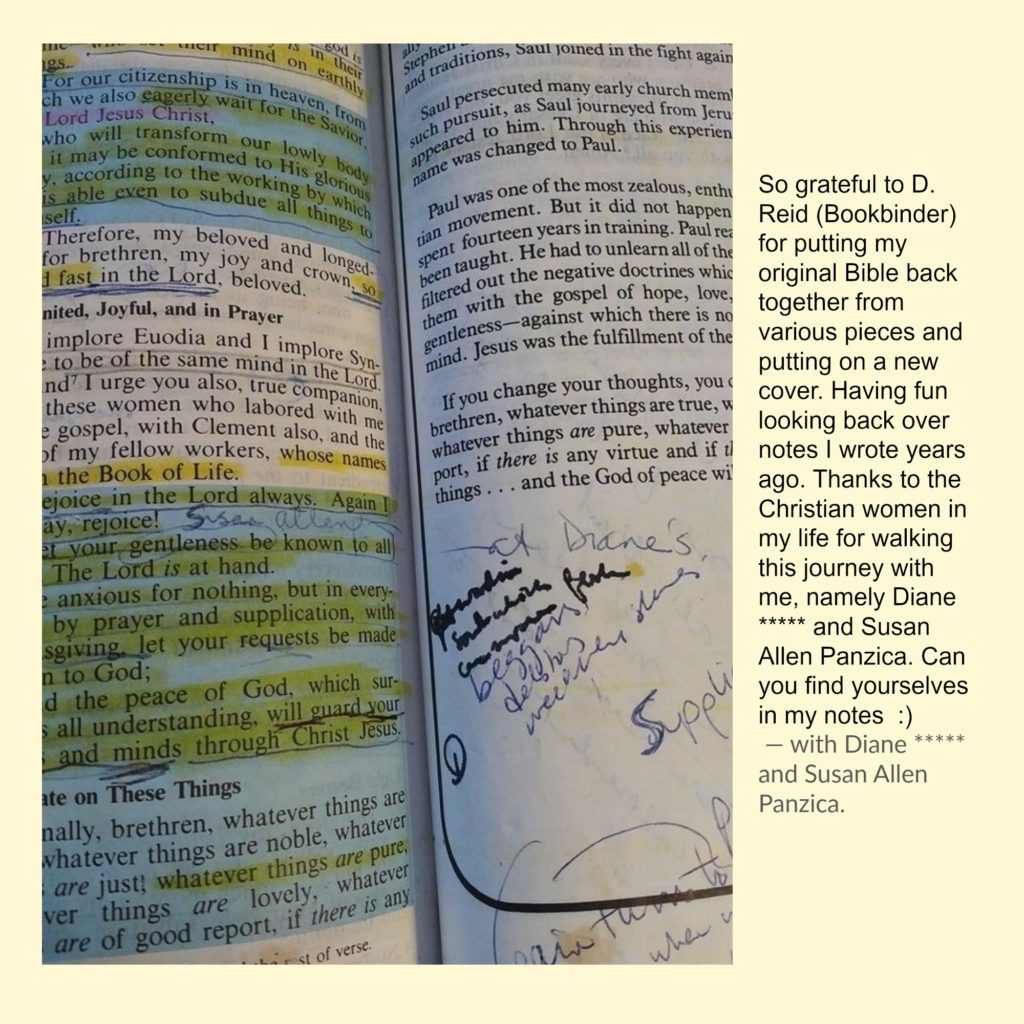 Years ago, I co-led a Bible study for young single women like myself at the time. They were sweet times as we were all growing together in the Lord. Though the emotions remain strong, many of the details of those days are dim or lost memories.
I tend to forget that God is eternal and sovereign. He's omniscient and infinite. And He can use us in ways that may have an impact long after we've forgotten.
In dry times, I find myself in despair over my value and usefulness to God. I feel uninspired and unable to encourage others. And I think I'm the only one who feels that way.
But I'm not, am I?
We all feel that way sometimes. Sometimes for long times. Many of God's most faithful servants in the Bible felt that way too.
After his great victory over the prophets of Baal, Elijah ran away in despair following a threat from Queen Jezebel.
Though deeply loved by her husband, Hannah wept over her barrenness so much so that the priest Eli thought she was drunk.
Despite being revered by his people, David cried out to the Lord so often while running for his life from Saul that the book of Psalms is the largest book in Scripture.
The enemy of our souls wants us to keep the dark times in the forefront of our minds rather than the fruitful blessed ones. But like Joseph who stored up during the 7 years of plenty to provide for the 7 years of drought, we need to cherish those fruitful times to sustain us for the dry seasons ahead.
Some thoughts for the dry season:
The Serenity Prayer says – God, grant me the serenity to accept the things I cannot change, Courage to change the things I can, And wisdom to know the difference. We first must distinguish between those circumstances we can change from those we cannot, take action where we can, but begin to learn that the non-changeables in our lives are allowed by God for a reason and for our benefit.
Is your God bigger than your circumstances? Ruminate on His promises, both those fulfilled and yet-to-be fulfilled.
Forget AND remember. The prophet Isaiah tells us to do both:

"Forget the former things; do not dwell on the past. See, I am doing a new thing! Now it springs up; do you not perceive it?" Is. 43:18-19
"Remember the former things, those of long ago; I am God, and there is no other; I am God, and there is none like me." Isaiah 46:9
I find myself remembering things that have little value, hurtful things, foolish things, things that should be long forgotten. These are the things that Isaiah says to forget – "do not dwell in the past." In Paul's description of the race of life, these things are weights that drag us down and keep us from pressing on toward the goal. What we are to dwell on, to remember, is the One who redeemed us when we were unworthy, the One who sustained us when we couldn't go on, the One who grants us peace beyond understanding, the One who loves us unconditionally – whether we feel it or not.
Beloved, I pray that these words encourage you today. How can I pray for you?