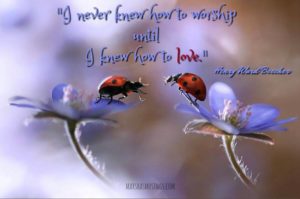 Matthew 22:34-40 – But when the Pharisees heard that He had put the Sadducees to silence, they gathered themselves together. And one of them, a lawyer, asked Him a question, testing Him, "Teacher, which is the great commandment in the Law?" And He said to him, " 'YOU SHALL LOVE THE LORD YOUR GOD WITH ALL YOUR HEART, AND WITH ALL YOUR SOUL, AND WITH ALL YOUR MIND.' "This is the great and foremost commandment. "The second is like it, 'YOU SHALL LOVE YOUR NEIGHBOR AS YOURSELF.' On these two commandments depend the whole Law and the Prophets."
God calls us to true worship . . . Worship as God sees it. It's not what our culture thinks it is, or even what many church attendees think it is. God defines worship as "love": "Love the Lord your God" (Matthew 22:37) 
Love is a verb, not a noun or an adjective here. It requires doing, not just attending, watching, or believing. You haven't worshipped by attending church, listening to a sermon, singing hymns, or giving money. You've only worshipped when you've loved, adored, and honored God. 
Worship is loving God: "Love the Lord your God." Worship is about God, not us. It's not about what we "get" from the hour, but what we give to God. You are not the audience, and church staff members are not the performers. Worship leaders exist to help you do your job as worship "coaches," leading you to love God.
But there's another part of this worship and love equation. We are to love our neighbor as ourself. We're to be aware of those around us and seize opportunities to help others. In regards to our brothers and sisters in Christ, He wants us to be reconciled before we can truly worship Him. He takes this so seriously that in Matthew 5:23,24 we're told if we have something against someone, we're to leave our gifts at the altar and first go and be reconciled.
Let us all seek to love well and experience worship in our lives not just on Sunday but every day.