A Mother's Love Resembles Our Father God's Love
Mother's Day is coming to an end as I write this blog post. I spent some time with a good friend over the weekend, and observed her devotion to her daughters:  three year-old twins and a six-month old. She gives her time, energy, creativity, wisdom, patience and love to her daughters, as we all try to do on a daily basis. I have no doubt that she learned how to be a mom by observing her own mother. Here is Ruby, on the left, with her mother, sister and all their daughters.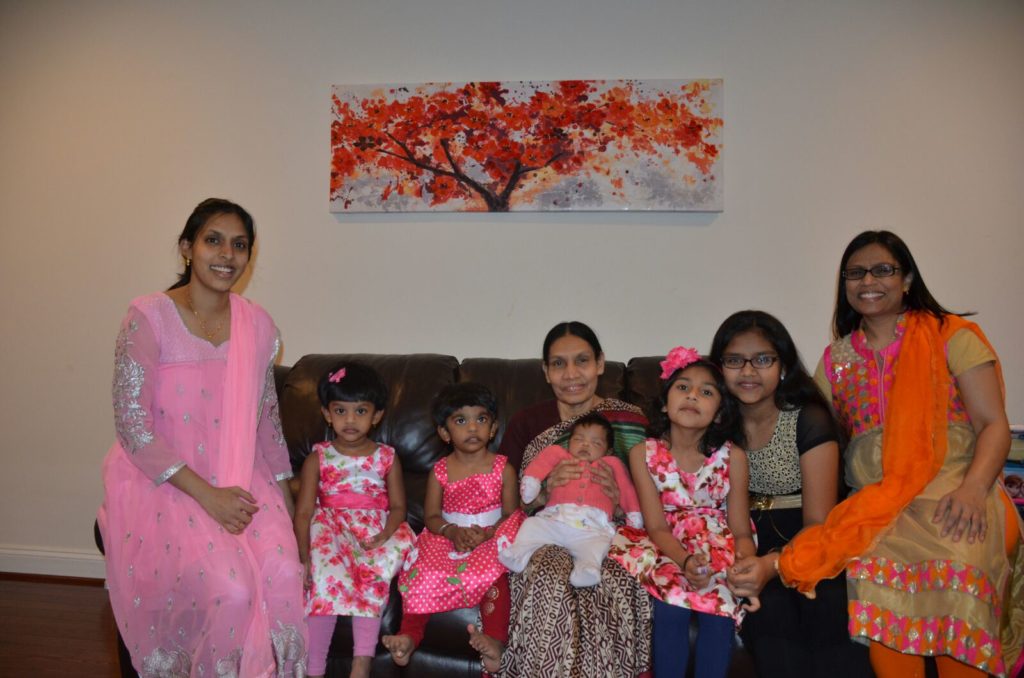 On the drive home from Connecticut, I pondered the qualities of a good mother. Like many of the writers and readers of Laced With Grace, this is my first Mother's Day without my own dear mother. As I contemplate what I miss most about my mom, I realize that many of the qualities of "good" moms resemble God's attributes. I offer a few below, though there are many more.
Sacrifice
I have to start with this. Mothers sacrifice so much, beginning with housing our babies in the womb, giving up the freedom to choose what we eat and drink, and allowing out waistlines to expand greatly! But pregnancy is only the beginning, and it's probably the easiest part of being a mom. Once we give birth and bring our baby home, the real sacrifices begin–we sacrifice sleep, time, energy, hobbies, and sometimes even our careers. But we don't do it begrudgingly; we do it joyfully. It is rare in modern times, but occasionally moms give up their own lives for their children giving birth.
"This is love: not that we loved God, but that He loved us and sent His Son as an atoning sacrifice for our sins."  1 John 4:10
"But God demonstrates His own love for us in this: While we were still sinners, Christ died for us." Romans 5:8
Forgiveness
Mothers seem to have a bottomless well of forgiveness. As children we can be ungrateful, selfish and mean. We can be unappreciative and insensitive. When we become mothers we have an epiphany — so this is what it means to be a mother, to keep giving and loving and caring even when it is not reciprocated. And isn't that what God does for us? He keeps loving us, even when we disregard or ignore Him. The forgiveness extended to us is beyond our ability to comprehend, but not beyond our ability to be grateful and thankful.
"Therefore, my brothers, I want you to know that through Jesus the forgiveness of sins is proclaimed to you." Acts 13:38
"For He has rescued us from the dominion of darkness and brought us into the kingdom of the Son He loves, in whom we have redemption, the forgiveness of sins." Colossians 1:13-14
Desiring our Best
Our mothers want the best for us. They are our tireless cheerleaders. Growing up, my mom encouraged me to do well in school, and excel in flute playing. She found an excellent teacher, paid for lessons, and signed me up for a community orchestra. When I graduated high school my mom encouraged me to apply for colleges and supported my studies. When I got engaged, my mom was there with encouragement and guidance. Christian mothers pray for their children, share lessons from God's Word, and model what it means to follow Jesus. Personally, I want the best, God's best, for my own three sons, even though I'm not always sure what the "best" looks like for them. I am convinced that no one consistently wants the absolute best for us like our own mothers, except our Lord.
"And we know that in all things God works for the good of those who love Him, who have been called according to His purpose." Romans 8:28
I'm certain all of us can think of many more qualities of our own moms that mirror the attributes of God, but for me, these three stand out:  Sacrifice, Forgiveness and Desiring our Best. Put together, they equal a mother's love.