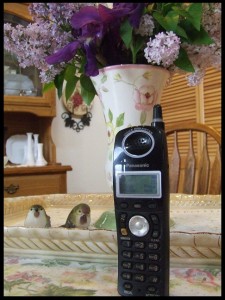 Today I was so stressed; I picked up the phone to call my prayer partner and called myself! How bad is that? Funny things is, when I heard my cell phone ringing, I almost answered it! You know you're having a hard day when you call yourself and you answer!
I couldn't think of any reason for feeling the way I felt. The demands on me were no more than usual, so why the feeling of immediate doom? When I redialed the phone (this time not to myself) I got a busy signal, so I took my problem to God instead, which is where I should have gone in the first place…and to my prayer partner second.
I wasn't sure at the time where the feeling was coming from but I knew it wasn't from God. He doesn't give us the spirit of fear but of power and love and a sound mind (2 Timothy 1:7). He gives peace and joy and love…not anxiety. As a matter of fact, He tells us to be anxious for NOTHING (Philippians 4:6).
Just knowing it didn't come from Him helped, because I knew if it didn't come from Him it probably came from the other guy; the one who stirs things up and causes havoc…the devil. He's the one who signs his work with fear and doom.
As I prayed and asked God to help me see what was true and real, and not be taken over by emotions, I began to feel better. The clouds of fear and doom lifted and peace began to clear my mind. I put on the garment of praise for the spirit of heaviness (Isaiah 61:3) by lifting my voice to Him in praise, and before I knew it, I wasn't just mouthing the words…I was feeling it from my heart.
I opened my Bible and started reading. The promises in His word are always good medicine for whatever ails us. Whether we're dealing with fear, anxiety, persecution, sickness, whatever it may be, He wants to comfort us and give us a joy and peace that passes all understanding (Philippians 4:7).
When I finally got through to my prayer partner, I didn't need prayer! God had already answered my call.
Are you in need of some peace today? How about joy? Don't rush to the phone to call a friend (or yourself), call out to God first, He's waiting to answer your call.
"Be anxious for nothing, but in everything by prayer and supplication, with thanksgiving, let your request be made known to God; and the peace of God, which surpasses all understanding, will guard your hearts and minds through Christ Jesus." – Philippians 4:6-7