Are You Living in a Holy Huddle?
Are  you living in a holy huddle?  Before you answer this question, let me describe what I call a holy huddle.   
You're a Christian.  All of your friends are Christians.  Your social activities involve other Christians.  Your children go to a Christian school or are home schooled.  You may wave to your neighbors but you really don't know very much about their lives.  You're active in your church and probably teach or go to a regular Bible study.  You may pray for your country or city but really don't get involved unless it's for a Christian community leader. 
OK, before you think I'm down on Christians …that's absolutely not true! 
I am a Christian and I love the Lord Jesus.  And I think it's important to have fellowship with other Christians.  But I also see it often taken to the extreme where people get so used to their comfortable "holy huddle" that they really don't live out the Great Commission. 
In Matthew 28: 19-20 Jesus appeared to eleven of His disciples on a mountain in Galilee.  Here's what He told them to do:
"Therefore go and make disciples of all nations, baptizing them in the  name of the Father and of the Son and of the Holy Spirit, and teaching them to obey everything I have commanded you.  And surely I am with you always, to the very end of the age."
Did  you notice Jesus said GO?  Remember back to Genesis 11 and something called the tower of Babel.  Do you remember that God had told the people to go out?  Instead they settled  and built a tower. Listen to verse 4:
"Come, let us build ourselves a city, with a tower that reaches to the heavens, so that we may make a name for ourselves and not be scattered over the face of the whole earth."
So, what did God do?  Read for yourself His response in verses 5-8:
"But the Lord came down to see the city and the tower that the men were building.  The Lord said, "If as one people speaking the same language they have begun to do this, then  nothing they plan to do will be impossible for them.  Come, let us go down and confuse their language so they will not understand each other.  So the Lord scattered them from there over all the earth, and they stopped building the city."
There's a lesson for me in that one.  When God tells me to do something I should listen and …obey.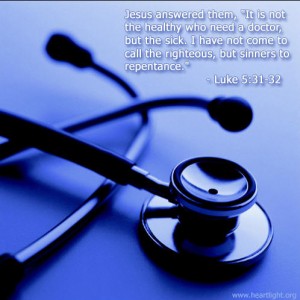 Jesus came to save sinners.  And in the New Testament He uses us as His channel of blessing …to others. 
It's not given for us to keep this blessing only to ourselves.  I'm so grateful that I am declared righteous before God because I am clothed in the righteousness of Christ.  When He looks at Debbie, He sees Jesus.  How awesome is that?  My heart is so thankful.  I have peace with God and I will spend eternity with Him. Why would I want to keep that to myself?
There are so many people who still don't know Him.  We are called to be salt and light to a lost and dying world.  I want to challenge you to go out and be that light. 
Don't just preach.  Walk your talk. 
Talk to your neighbor when you're out getting your mail. 
Smile at the person checking you out at the grocery store.  Learn their name. 
Did you know that people are more inclined to listen when they know you care?  They don't want to be seen as a project with a goal of converting them.  Be an example and live a life of love, always being ready to share the reason for your hope and treat others with respect.
Do you take the Great Commission seriously?  Or are you so worried about being in the world that you've cut yourself off from contact with many of the people who just might need what you have within you?
Debbie Petras
Heart Choices