Christ is born in a manger to die on a cross
We celebrate the birth of Christ today. We remember our Savior, born in a manger. But let's look back to the beginning and see how Christ's birth is part of the whole plan of God.
"In the beginning, God created the heavens and the earth." Genesis 1:1
"In the beginning was the Word, and the Word was with God, and the Word was God. He was in the beginning with God. All things were made through him and without him was not any thing made that was made. In him was life, and the life was the light of men. The light shines in the darkness, and the darkness has not overcome it." John 1:1-5
From the very beginning of time as we know it, Christ was present with God.
"The people who walked in darkness have seen a great light: those who dwelt in a land of deep darkness, on them has light shined… For to us a child is born, to us a son is given: and the government shall be upon his shoulder, and his name shall be called Wonderful Counselor, Mighty God, Everlasting Father, Prince of Peace." Isaiah 9:3, 6
Christ is the light of the world. Before we knew Christ we walked in darkness. Without him, we are without light, without life, without hope.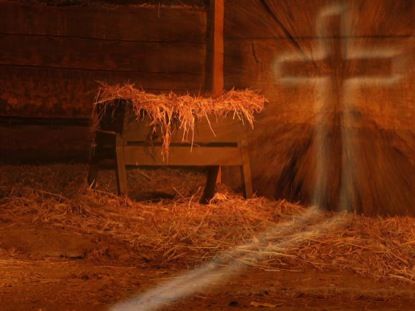 "For unto you is born this day in the city of David a Savior, who is Christ the Lord. And this will be a sign for you: you will find a baby wrapped in swaddling cloths and lying in a manger." Luke 2:11-12
"Peace I leave with you; my peace I give to you. Not as the world gives do I give to you. Let not your hearts be troubled, neither let them be afraid." John 14: 27
Jesus Christ is not only our light, but he is also our peace. Only the Prince of Peace can offer peace that lasts, peace that remains.
"Have this mind among yourselves, which is yours in Christ Jesus, who, though he was in the form of God, did not count equality with God a thing to be grasped, but made himself nothing, taking the form of a servant, being born in the likeness of men. And being found in human form, he humbled himself by becoming obedient to the point of death, even death on a cross." Philippians 2:5-8
Even though Christ is fully God, He took the form of a human, a baby, humbling himself to be born of a woman and to lay down His life for us.
"For this reason the Father loves me, because I lay down my life that I may take it up again." John 10:17
"I glorified you on earth, having accomplished the work that you gave me to do. And now, Father, glorify me in your own presence with the glory that I had with you before the world existed." John 17: 4-5
God had a plan from the beginning. His Son Jesus would be born of Mary, live a sinless life, glorify God on earth, and give up his life on the cross–for our salvation. Jesus glorified God on earth and gave us new life in Him.
"Therefore, if anyone is in Christ, he is a new creation. The old has passed away: behold, the new has come. All this is from God, who through Christ reconciled us to himself and gave us the ministry of reconciliation; that is, in Christ God was reconciling the world to himself, not counting their trespasses against them, and entrusting to us the message of reconciliation. Therefore, we are ambassadors for Christ, God making his appeal through us. We implore you on behalf of Christ, be reconciled to God. For our sake he made him to be sin who knew no sin, so that in him we might become the righteousness of God."           2 Corinthians 5: 17-21
Jesus fulfilled his mission. He fulfilled His purpose. And now it's our turn to fulfill the purpose God has given us. We are ambassadors for Christ; we are his ministers. Christmas isn't just about remembering Jesus' birth, but about taking up our own ministry and reconciling people to God.