The words fear not jumped out at me this morning as I read 2 Kings 6:8-17.
How often have I read those words as I study the pages of my Bible over the years?  God does not want us to fear, not even for a moment and he proves to us over and over again that he is always with us.
In this scripture, the King of Syria had been plotting against the King of Israel.  However, Elisha the Prophet would always warn the King of Israel and he would avoid the trap of the King of Syria. When the King of Syria found out that it was Elisha who had knowledge of his plans he sent his army to fetch Elisha.  When the army surrounded them Elisha's servant was afraid.  However, Elisha said to him;
Fear not: for they that be with us are more than they that be with them. 2 Kings 6:16 KJV (emphasis mine)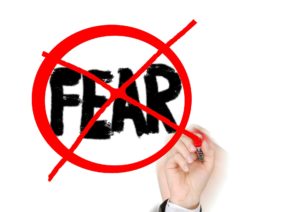 Are you like me…sometimes fearful?  It often seems as if the obstacles that the enemy throws in your path are unsurpassable.  They seem bigger than life.  However, they are not bigger than God.
What I like about this scripture is that Elisha didn't just tell the servant not to fear, he prayed and said;
Lord, I pray thee, open his eyes, that he may see. And the Lord opened the eyes of the young man; and he saw: and, behold, the mountain was full of horses and chariots of fire round about Elisha. 2 Kings 6:17 KJV (emphasis mine)
Elisha realized that the young man's faith needed to be built up.  No matter how much we trust God there are times when we need to SEE with our eyes that he is with us and moving on our behalf.  God honored Elisha's prayer and revealed to the young man the heavenly army that surrounded Elisha.
So, what is God saying in all of this?
Do not fear!
I have you surrounded!
No matter how unsurpassable the path seems, I have a way out for you.
Dear God, Thank you for leading us to passages in your word that offers direct words of comfort and hope.  Today, help us not to fear but to cling to the hope that we can only find in your word.
Sometimes I run out words. I can find no rhyme or reason why certain things happen and why God allows it. I wonder why it seems sometimes as if evil is winning. I feel anxious and fearful about things I have no control over. I can only continue to trust my heavenly Father who tells me not to fear. Today, I could not find any words to write but this old post about Fear sums up my thoughts…