"Fiercehearted – Live Fully, Love Bravely" – Book Giveaway
"Have I not commanded you? Be strong and courageous. Do not be frightened, and do not be dismayed, for the Lord your God is with you wherever you go." – Joshua 1:9 (ESV – emphasis mine)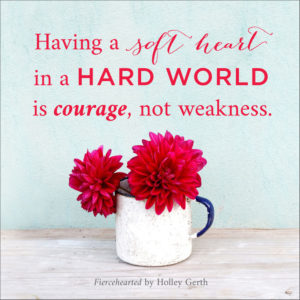 My sweet friends, today I want to do something special for all our faithful readers.
Today, October 3rd is not only a national Germany holiday, it also is the long awaited launch day of a new book by Holley Gerth. Holley is one of my favorite writers. When I received the email back in August that Holley is coming out with a new book in October, I knew I wanted to give away a copy of her book.
You can find out more about Holley's new book and Fall study on her website dedicated to "Fiercehearted – Live Fully, Love Bravely".
Here is a short quote that gripped me from the beginning:
"A fiercehearted woman looks life in the face and says, "You can't beat me." She lives fully and loves bravely. She never gives in, never gives up, and never lets go. She dares to be who she is—imperfect and beloved." – Holley Gerth
So, all you need to do is comment on this post to be entered in the drawing. The comments are open on this post until Friday, October 6th, with the winner announced on Saturday (yes Saturday), October 7th. Please make sure that your email address is filled out in the comment section (don't post your email in the comment, since I don't want your email address displayed).
Good luck!!!