Freedom in the Face of Fear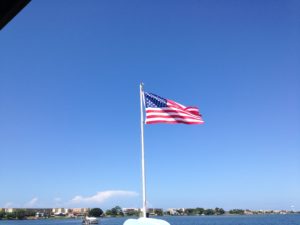 "For you did not receive a spirit that makes you a slave again to fear, but you received the Spirit of sonship.

And by him we cry, "Abba, Father." Rom 8:15 (NIV)
Tomorrow we celebrate Independence Day in America.  We rejoice in our freedom to be a country founded in democracy.  We attend parades, we eat hamburgers, hot dogs and watermelon, we swim and we cap it all off with a fireworks display.  We celebrate freedom!  But the original fireworks display was not a celebration, but a battle.  They did not relish in freedom; they fought in fear.  As gunfire and cannons volleyed back and forth there were no inspired "oohs and ahhs".  There was only a fight to the finish.
In Christ, we have been set free.  But before our freedom was purchased, He faced dread in the Garden of Gethsemane.  Before our liberty was secured, He cried out, "My God, why have you forsaken me?"  His sacrifice, His suffering, purchased our freedom.  Yes.  "Whom the Son sets free is free indeed!"
Many believers in Christ have freedom, but they do not walk in it.  Instead, they allow the enemy of their souls to make them slaves again to fear.  Such is not our lot.  The blood that purchased our freedom is costly.  Extravagant.  And with His bleeding, He purchased our freedom to walk in confidence.  To rest in peace.  To enjoy sweet fellowship with our "Daddy God."
The spirit of Sonship is the antithesis of fear.  Why?  Because fear indicates that we do not know what to do.  We do not have hope.  We are uncertain of our fate.  But knowing God as our Father, we recognize that our Father loves us unconditionally.  Lavishly.  And He has all resources at His disposal.  Because we have Him, we have no reason to dread or fear.  He will take care of us!  He is a good Father and does all things well.  We do not have to fear He will crush us under His righteous right hand, or even that He will allow our enemies to overtake us.  We can rest in the freedom He purchased simply because He is sufficient.  And He loves us.
If today you are struggling with areas of fear, anxiety, depression or dread, lift up your eyes! Your Deliverer stands ready to break the yoke of oppression.  To cast off the enemy of your peace.  Run to Him.  He is enough!
Thank you for, Lord,  for the freedom we have in America.  Protect it, I pray, and garner glory for yourself among Your people.  Forgive us, O Lord, when we lose sight of you in the skirmish and forget that you are our Victory.  You are our Triumph.  You are our Truth!  In Jesus' Name.  Amen.