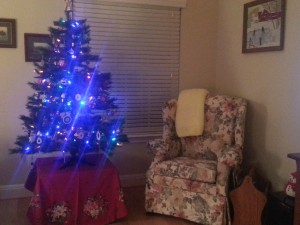 The spot where the sparkly tree stood is empty now – the presents unwrapped and put away. I sit and think back to another Christmas, the one when our daughter was just a tiny girl.
She had come to us in a joyous, unexpected way – a miraculous answer to prayer. A curly-haired, chubby-cheeked miracle. I shopped for my only daughter with an eagerness born of years of anticipation – and shopping for boys. What fun to walk down aisles of baby dolls and tiny tea sets. I don't know who was more excited Christmas morning – a wide-eyed two year old or her Mom.
A bit overwhelmed at first, she soon mastered the skill of tearing through colorful wrapping paper in record time. Within minutes, hours of shopping lay buried under a mountain of paper and bows. She looked under the tree for more gifts and when she realized there were no more…….she began to wail! Huge tears rolled down her cheeks. Right from the beginning she had been either all tears or joy – swinging from one to the other with eye popping speed. Now it was all sorrow. Without acknowledging the bounty scattered all around her, she only wanted more.
She was, after all, only two. But, yes, I was a bit disappointed. All the carefully chosen gifts were, for that moment, not enough.
"He who did not spare His own Son, but gave Him up for us all, will He not also with Him graciously give us all things?" Romans 8:32
We have a loving Father who has given us a Gift – precious beyond measure. When we accept the Gift, He delights to give us more. Through the one gift of His Son, He gives us carefully chosen, lovingly wrapped gifts. Blessing upon blessing. Peace, joy, comfort, faith, hope, provision, help, healing, gifts too numerous to name.
We are thankful, but all too often we look around us at the gifts we have (and the gifts others have) and want something more. We leave the gifts scattered at our feet and go in search of something to satisfy the longing for more only to discover that apart from Him everything else is emptiness.
The decorations are taken down and put away, but Christmas remains in our hearts. We receive the Gift and the gifts, given with a love that cannot possibly be measured, and we give them back. We place all that we are in His hands, so that we might be the gift to others. And we have more than we could ask or think.
Blessings,
Linda