I saw God.
Let me explain. Lately I have discovered that my spiritual eyes have opened just a little bit wider. I've witnessed glimpses of God around me.
Most recently, I heard God. It was early Easter morning. You can read about that story on my Facebook page (look for the post on Sunday, April 8, 2012.)
But the story I feel compelled to tell is this one:
Several years ago, I found myself in what I would describe a very real spiritual battle. I had been praying for my unsaved husband and the spiritual warfare over him was intense.
At that time I began to pray for angels to be dispatched from the Lord's throne to my home. To stand guard at every window and door, with their swords drawn ready to fight for me, my husband and our family.
God listened and Wow, what a battle it was. You can read that story (here). I am utterly convinced God dispatched those angels and they have been standing over this home ever since.
But, one of the amazing little miracles that came from that period of time was the doves.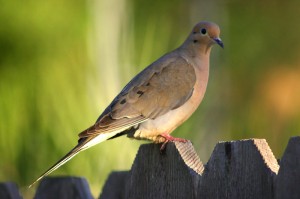 DOVES
In God's Word we learn that after the flood the Lord sent a rainbow as a promise He would never again destroy the world by flood.
Genesis 9:13-15 I have set my rainbow in the clouds, and it will be the sign of the covenant between me and the earth. Whenever I bring clouds over the earth and the rainbow appears in the clouds, I will remember my covenant between me and you and all living creatures of every kind. Never again will the waters become a flood to destroy all life.
Now this might seem a little strange but in the same way God has sent a promise to me through the doves.
Ever since that time of battle, I have noticed that doves are all around. In the late afternoon two doves arrive to sit outside of my kitchen window on the fence. I see them on the back fence from time-to-time as well.
One recent morning while on my jog and praise, I spotted a dove sitting on the streetlight above the sidewalk where I was jogging. And as I finished my jog and was walking toward home during my cool-down, there it was…. the small dove flew down from the streetlight and started hoping down the sidewalk in front of me.
If you could have seen me, I burst into the broadest smile and started praising God and thanking Him for the angels that He sent to protect and care for me and my family. (yep, the neighbors think I'm strange)
I can't help but praise the Lord …. out loud…. in the street because He is so very good to me.
Psalm 91:9 If you make the Most High your dwelling— even the LORD, who is my refuge- then no harm will befall you, no disaster will come near your tent. For he will command his angels concerning you to guard you in all your ways; they will lift you up in their hands, so that you will not strike your foot against a stone. You will tread upon the lion and the cobra; you will trample the great lion and the serpent. "Because he loves me," says the LORD, "I will rescue him; I will protect him, for he acknowledges my name. He will call upon me, and I will answer him; I will be with him in trouble, I will deliver him and honor him. With long life will I satisfy him and show him my salvation."
How amazing and awesome is that passage? It's true.
What I'm discovering is that for many, many years I really didn't understand the God truly delights to make Himself visible. As my grandma would say, "It tickles His heart."
But it took a long time for me to discern these glimpses. What I want for you is to learn how to see God in and around you in your daily living and to enjoy His love now and not wait years in the way that I did.
So, I'm wondering, have you seen God? Do you know how to open your Spiritual Eyes? Would you be interested to know more about how our God reveals Himself to mere humans?
Leave me a note in the comments when you caught a glimpse of God or/and give me your thoughts about the questions above.
Be blessed, Lynn