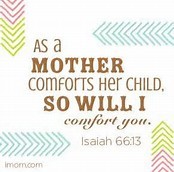 Psalm 10:17 (NLT) Lord, you know the hopes of the helpless. Surely you will hear their cries and comfort them. This scripture tells us that God knows and understands our situation.  It states that surely, which means without a doubt, unquestionably, certainly, God will hear our cries and encourage, strengthen, console, calm or inspire with hope those who cry out to him. Whatever situation brings us to a place of sadness, despair or hopelessness, we only need to read God's Word to find the comfort that will bring us to a place of peace.
I have recently experienced God's comfort in tangible ways.  My mother's health is declining rapidly.  We moved her to a home care facility where kind and experienced caregivers are giving her the 24 hour personal care she needs. The process of clearing out her home in order to provide needed finances has been overwhelming. Recently we had a big garage sale and at the end of the day, her home that was the source of so many special memories was empty.
I woke up the next morning tearful as I considered all that had transpired over the last several weeks. I believe God prompted me to recall some of the ways He personally gave me comfort. Each time we sold a piece of furniture, the new owners commented how delighted they were to place it in their home. The dining room furniture would now be the table where a new family would gather for Thanksgiving dinner. A young college boy found the kitchen table and chairs that badly needed reupholstered the perfect price he could afford and he looked forward to the challenge of fixing them. The couch and love-seat upholstered in a fabric with pastel flowers that we thought would never sell was purchased by a little lady who was delighted with its beauty.
As we closed up the garage sale, of course there were many things that remained. I realized that the jobs that would have given me great sadness had been accomplished by those who had come to help that day.  The clothes my mom had worn were boxed up by my sister-in-law. The knick-knacks were packed carefully by my dear friend. Others had sent messages that they were praying for me.
I was so very thankful for these simple things that brought me great comfort.
God's Word declares, "As a mother comforts her child, so will I comfort you." Isaiah 66:13a. My daughters were there to help as well. Little did my baby granddaughter know how just holding her close was another source of comfort.
God tells us in His Word, "All praise to God, the Father of our Lord Jesus Christ. God is our merciful Father and the source of all comfort.  He comforts us in all our troubles so that we can comfort others. When they are troubled, we will be able to give them the same comfort God has given us. 2 Corinthians 1:3-4
Let us be aware of and available to those among us who are in need of God's comfort.
Now may our Lord Jesus Christ himself and God our Father, who loved us and by his grace gave us eternal comfort and a wonderful hope, comfort you and strengthen you in every good thing you do and say. 2 Thessalonians 2:16- (NLT)