Grace Alone…Through Faith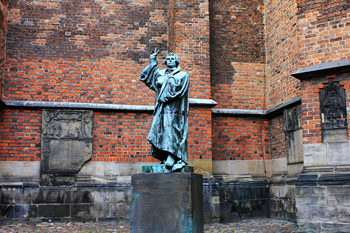 For by grace you have been saved through faith. And this is not your own doing; it is the gift of God, not a result of works, so that no one may boast. For we are his workmanship, created in Christ Jesus for good works, which God prepared beforehand, that we should walk in them. (Ephesians 2:8-10 ESV ~ emphasis mine)
For me personally the above passages are the most important Words written in Holy Scripture. October 31st, 1517 will always have a special place in my heart. You see, up until than people were asked to purchase indulgences to pay for absolution and granted salvation. The reformation of the German church was sparked when Martin Luther nailed his 95 Theses to the doors of "All Saints Church" in Wittenberg to protest the sale of indulgences.
Sadly, last week I read that a clergy member threatened church members with hell if they would vote for a certain presidential candidate in the up-coming election. Please understand that I do not endorse any candidate in the election (I am not allowed to vote due to my German citizenship). But I do take a stand for God and His Word. Salvation has nothing to do on how someone votes. Salvation comes from God and it is by HIS GRACE we are saved, through faith.
I am thankful that we still reap the benefits of the reformation today. We have widely access to the written Word of God. If we don't have our own Bible, we are able to search the Bible 24/7 via the Internet. Please, take advantage of that. Don't take the word of man as truth, but check everything you hear or read against His Holy Word.
Remember that God sent His Son to die for all of us:
"For God so loved the world, that he gave his only Son, that whoever believes in him should not perish but have eternal life. For God did not send his Son into the world to condemn the world, but in order that the world might be saved through him. Whoever believes in him is not condemned, but whoever does not believe is condemned already, because he has not believed in the name of the only Son of God. (John 3:16-18 ESV)
"Lord of Heaven and Earth. Thank you for Your grace and love for all mankind. Lord, help us to see the Truth in Your Word. May we always trust You and not the word of man. We are trusting in Your mercy. In Jesus Name, Amen."

Happy Reformation Day!!!
Photo & Content Copyright © Iris Nelson