"And Jesus, full of the Holy Spirit, returned from the Jordan and was led by the Spirit in the wilderness for forty days, being tempted by the devil. And he ate nothing during those days. And when they were ended, he was hungry. The devil said to him, "If you are the Son of God, command this stone to become bread." And Jesus answered him, "It is written, 'Man shall not live by bread alone.'"
(Luke 4:1-4 ESV)
This past Sunday our pastor preached about Jesus' temptation by the devil (Luke 4:1-13). Even though I have read and heard the text often before, I always seem to glean something fresh from the Word of God.
When the devil tempted Jesus with treasures of this world, Jesus answered all the temptations with God's Word. How neat is that! When Jesus said "Man shall not live by bread alone", He quoted from the Old Testament; Deuteronomy 8:3 to be exact:
"And he humbled you and let you hunger and fed you with manna, which you did not know, nor did your fathers know, that he might make you know that man does not live by bread alone, but man lives by every word that comes from the mouth of the LORD."
I have to very honest; I have a hard time reading through the Old Testament. Surely, I have some favorite books of the Old Testament and have studied them before. Some of my favorites are Joshua, Ruth, and of course Daniel and the Psalms. But when it comes to Deuteronomy or Numbers, I have a hard time to read them all the way through. I had committed a couple of times to read through the Bible in one year, but I have never finished.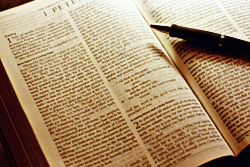 It is heart-breaking to not know all the Old Testament as I should. As you can see, Jesus knew the Old Testament by heart. You will say, "Of course He did". Yes, I know, but it still irks me that I have such a hard time with it. Maybe reading through the Bible in one year is not for me, but I will make it one of my priorities to find the perfect plan for me to work through the Old Testament.
Jesus never said that life this side of heaven will be easy (actually He said the opposite in John 16:33). I know that when attacks by the devil come, I should be grounded in His Word so that I can ward off his attacks and respond with the Word of God.
Lord of Heaven and Earth. I need the guidance of Your Holy Spirit to get grounded in Your Word. Lord, I know that I cannot do this by myself, but with Your help I can work through the Old Testament. Lord, give me the will to commit Your Word to my heart. In the precious name of Jesus I pray. Amen!
Photo & Content Copyright © Iris Nelson