Are YOU a grumpy Christian?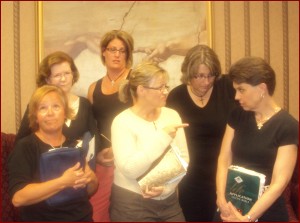 Do you ever look in the mirror and see this face reflecting back?
Do you ever think of yourself as a "grumpy Christian"?
WHO am I reflecting?
How does the world see ME?
Is this the image I am portraying?
Or am I a shining light, reflecting Christ and the JOY I have in Him to everyone I come in contact with?
WHAT is my source of joy?
My joy bubbles up from a relationship with Jesus Christ!
I only experience joy- true joy when I understand who I am in Christ, what He has done for me and when I have an revelation of the hope and promises to come!
You see, people are watching us, ladies!
What a testimony we are both to non-believers in our lives and strangers when we experience and exude JOY in all circumstances!
Could you imagine what a witness we would be to the WORLD if the Church was known for its inexpressible, boundless joy? Joy that knows no bounds or boundaries? What if in the midst of trials and turbulent times the Church was a pillar of unshakeable JOY?
Joy could be our greatest witness tool Joy in the middle of trials and sufferings is unexplainable and unnatural to the world because it is supernatural- it comes from Christ!
This is a hurting world turning to wordly things- drugs, sex, alcohol, money to ease their pain. People are settling for a feeling or an absence of feelings to get them through. When we, on the other hand, express sheer JOY, no matter what the circumstances, people want to know what the source of our joy could be.
How can she be at such peace, with a genuine loving, gentle countenance about her and a sweet smile, when she is battling cancer?
Or even more simply:
How can she be so friendly and gracious to the restaurant hostess who has just passed her name and let a bunch of people go ahead of her?
How can she be so patient and happy with the clerk after waiting in line at Target for 20 minutes?
How can she smile and wave at the person who just cut her off in traffic?
Listen to Philippians 2:14

Do everything without complaining or arguing so that you may become blameless and pure, children without fault in a crooked and depraved generation, in which you shine like stars in the universe as you hold out the word of life.
Who is the WORD?
Jesus- Jesus is the Word made flesh.
"Holding out the Word of life…."  Picture yourself  HOLDING OUT JESUS to a hurting world when you live this verse!
Human nature is to grumble and complain in tough times. To get together with our girlfriends and moan and lament about how unfair life is….. We can flip on any TV show and get a dose of this from the world! But, shouldn't we as the Church of Jesus Christ off a better way?????
When inconvenient or unfair or unpleasant things happen and I don't complain or argue, I am shining Jesus for the whole world to see- I am holding Him out to the world.
Father God, may I always be a Light shining for You.  In Jesus' name.  Amen.