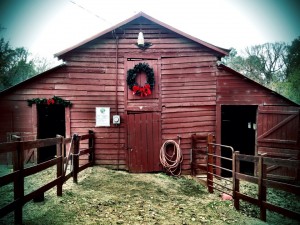 December is the appointed time to contemplate Mary and her journey to an unaided birth in a barn.
The urge to push overwhelms. A baby makes a way where there seems to be no way. Long before medication for pain, she feels every bit of nature's course. When instinct takes over, she pushes, possibly wondering if this breaking open will kill her.
But when the fullness of time came, God sent forth His Son … (Galatians 4:4).
This overwhelming need to push despite that it may bring about one's own death, was it God the Father's when the fullness of time came for him? When He pushed his glorious, ready Son as a newborn into this fleshly world? When a large God somehow made a way through small humanity? Did He push even though it would eventually bring about his own death?
The Word became flesh and dwelt among us (John 1:14).
To dwell means to pitch one's tent. God bent low, staked the tent peg of sacred seed in the earth of a virgin womb and crawled inside the tent of human flesh. Think of it: God—camping. A stable is suddenly apropos. The maker of the universe and giver of life disrobed his rightful and heavenly majesty to disguise himself as a newborn in a barn.
God went camping.
For God so loved the world that He gave His only begotten son … (John 3:16).