How to Recognize (and WIN) a Spiritual Attack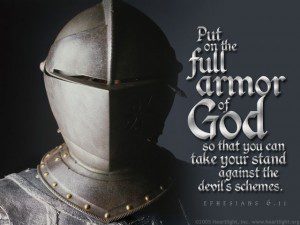 Lately, my thoughts seem to gravitate towards spiritual warfare and the battle that rages for our minds, body, spirit, and emotions. Satan knows he's lost the eternal battle for the soul of the redeemed, so he wages war in other ways.
My life has been upside down for several years. I've managed to function relatively normally until the past few months. Part of the issue has been the anti-cancer hormone therapy medicine I've been on, but there's so much more than that going on in my life right now that's thrown me into a bout of depression and/or anxiety. Over the years, I've helped others through their darker times, helped them to determine if it's a medical condition they should seek help for or if it's a spiritual attack so they could stand strong. Now I find myself in need of an intervention of sorts. My doctors have helped me to see part of the problem is medical, but I've also been allowing myself to become overwhelmed by this season of life. They're helping me with the medical side, but now I need to engage and win the spiritual side of this battle. I not only need to be on the defensive side, I also need to have an offensive battle plan. That means being aware of the times that I might be under spiritual attack.
When should I be aware of times that I might find myself engaging the enemy?
When I am taking significant steps of faith for spiritual growth.

When I'm invading enemy territory by being involved in evangelism or on a mission trip.

When I'm exposing Satan for who he is.

When I'm leading others in knowing more about God and who He is.

When I repent and make a clean break with the world, a long-held sin pattern or an unholy relationship.

When God is preparing us individually or corporately for a great work for His glory.
Right now, I can identify with several of those bullet points. 
So how do I engage the enemy . . . and WIN?
". . . in addition to all, take up the shield of faith with which you will be able to extinguish all the flaming missiles of the evil one. And take the helmet of salvation, and the sword of the Spirit, which is the Word of God."  Ephesians 6:16, 17 (NASB)
Be on the offense by taking up your shield of faith, the helmet of salvation and the sword of the Spirit. The shield of faith is the absolute confidence in His promises, His power and His program for our lives. Its purpose is to quench all the fiery darts/missiles of the evil one . . . and they WILL come.
I've found myself being bombarded by fiery darts and just didn't realize that's what's going on. Can you relate? The evil one will use schemes, temptations, lies, deceptions, and attacks aimed at us, to shift our focus to something or someone other than God.  They're often rooted in lies about God's identity or our identity in Christ.
"Do not love the world nor the things in the world. If anyone loves the world, the love of the Father is not in him. For all that is in the world, the lust of the flesh and the lust of the eyes and the boastful pride of life, is not from the Father, but is from the world. "1 John 2:15,16
How do I identify the fiery missiles?
Thoughts that are outside the norm – i.e. blasphemous thoughts (curse words).

Having hateful thoughts towards someone.

Doubts.

Having a burning desire to sin.

Overwhelming times of depression and you don't want to come out.
Those missiles of doubt, deception, and depression must be dealt with immediately through handling the Word of God accurately. Here are 3 action steps I'm taking to win the battle.
I've written these 3 questions and verses on 3×5 cards. I'm keeping them with me and claiming the verses when I know I'm going through a "frontal assault." 
 Am I trusting in God's character? God has my best in mind.  He is good!  Psalm 84:11; Romans 8:32
Am I trusting in God's promises and Word? He will accomplish what concerns me.  Numbers 23:19; 2 Peter 1:2-4
Am I trusting in God's program and timing? His ways are not always easiest, but they are always the best!  Jeremiah 29:11, Isaiah 55:8-13
Lord, help me to stand strong against the attacks of the enemy. Help me to refuse his attack on Your grace by trusting in Your character. I need to be strong and faithful in reading Your Word and understanding Your promises and Your program and plans for me. I want to know Your Word so well that the Truth will always win in my life over the deceiver. Help me to apply what I know to be true so the accuser is without a case. Lord, may I have absolute confidence in You, Your promises, power, and timing in my life.