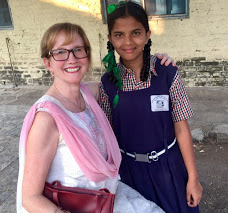 I recently spent 11 days in India, most of my time at Pandita Ramabai Mukti Mission. Pandita Ramabai founded Mukti Mission in the late 1800s, to accept and nurture traumatized girls and women, rescuing them from many social evils. Today Mukti is still rescuing girls, boys, women, and babies. providing a safe place for them to grow and learn about Jesus. It's an amazing campus with several schools, homes for destitute women and girls, homes for blind women, a nursery, a hospital, and a farm.
During my brief time there I was struck by the sense of contentment permeating the campus. The girls' belongings could fit in a suitcase, but they are happy. Each day the girls happily prepare for school, help the younger girls get ready, go off to school for the day, come back to their homes and do homework, and have devotions in their flower family homes. On Saturdays all the girls have chores to do, and Sunday they all go to church. They don't have much, but they are thankful for what they do have, as their circumstances have been much worse.
Our lifestyle while at Mukti was much simpler as well. The limited access to phones and computers, absence of televisions and hot water was not burdensome. Instead, the days were filled with ministry, teaching, conversations, devotions, prayer, and eating together.
My time there reminded me of the meaning of Philippians 4:13, when taken in context with verse 12:
I know what it is to be in need, and I know what it is to have plenty. I have learned the secret of being content in any and every
situation, whether well fed or hungry, whether living in plenty or in want. I can do all things through Christ who strengthens me. Philippians 4:12-13  NIV
How important it is to study scripture in context. Paul is teaching us that we can do all things — including being in want and hungry — through Christ. Christ gives us the strength to live and glorify Him in any and every situation. I saw this at work in the lives of the girls and women, staff, and volunteers at Mukti. Many of them have been in want; they have been hungry and homeless. Now they have a home and three meals a day. They would not be considered "well-off" by American standards, but they are content. They are my role models! I pray God allows me to do "all things" He is calling me to do, even if it includes giving up some of the comforts I think I can't live without.