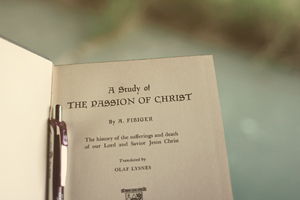 "The next day he saw Jesus coming toward him, and said, "Behold, the Lamb of God, who takes away the sin of the world! This is he of whom I said, 'After me comes a man who ranks before me, because he was before me.'"
(John 1:29-30 ESV)
Lent is starting very early this year; actually in one week from today. Some may wonder what Lent is: "Lent is a time when many Christians prepare for Easter by observing a period of fasting, repentance, moderation and spiritual discipline. The purpose is to set aside time for reflection on Jesus Christ – his suffering and his sacrifice, his life, death, burial and resurrection."
Do you observe Lent? If so, do you give up something during that time? Do you fast? How about spiritual discipline?
I know that we ought to reflect daily on His Word, but during Lent, I love to follow Jesus' way to the cross. One of my favorite books that reflects on Christ's passion is from the 1940's; written by a Danish Lutheran pastor, called "A Study of The Passion of Christ". Although it is written in 'Old English', I enjoy reading Pastor Fibiger's Lent sermons.
In his foreword, Fibiger writes:
"Christ is the heart of Christianity. It is named for Him, He is its content, its kernel, and its power. But His suffering and death on the cross, and His resurrection constitute the heart of the life of Jesus Christ."
Without His suffering, death and resurrection, we would have nothing. No foundation of our faith and hope. It may sound strange to some, but Jesus came to earth as a baby to take our place at the cross. We are the ones that should have been punished, but He took our sins gladly.
"And being found in human form, he humbled himself by becoming obedient to the point of death, even death on a cross."
(Philippians 2:8 ESV)
Lent is a journey for me; to reflect on the sacrifice of Jesus. It was a rough and strenuous road to Golgotha, which my Lord and Savior traveled gladly for me and you. Will you join me? When we celebrate Easter this year, may we remember the love God has for us and celebrate it with joy.
Lord of Heaven and Earth. Thank you for Your love. As I journey through the season of Lent, please help me to keep my focus on the dusty road of Your suffering. May I always be thankful for the cross. Help me to become bold to proclaim Your name to the ones who do not know Your yet. In the precious name of Jesus. Amen.
Photo & Content Copyright © Iris Nelson