I'm a bit of a fraidy cat… I admit it. It doesn't take much to scare me, which is why I don't ever watch scary or extra suspenseful movies.  I stopped when I was a teenager, because I couldn't sleep for weeks afterwards.   However earlier this year I got sucked into watching something that didn't seem all that scary, but it was.  What movie was it?  Well it wasn't actually a movie.  It was a reality show called Hoarders.
The show features people who are compulsive about holding on to stuff.  Their whole lives are defined by their possessions.  After watching about three shows all with people whose houses were so overrun with things that they could hardly move around I became fearful that it could happen to me.  So of course that weekend I totally tore my home a part to see if I had any stuff that I needed to get rid of.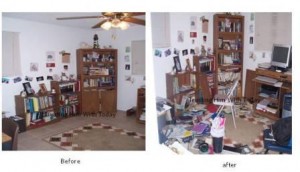 After wrecking my previously neat library (talk about before and after in reverse) I heard the Holy Spirit say.  It's not the stuff in here you have to worry about it's the stuff you hoard in your heart.
What does one hoard in his/her heart?
…Just a little hurt and resentment because I really didn't deserve that.
…Just a little anger because that really ticked me off.
…Just a little unforgiveness because what he/she/they did was really unforgivable.
…Just a little envy because it should have been me instead of her.
And so it goes.  A little of this and a little of that adds up to a whole lot of stuff that crowds out the soft gentle voice of the Holy Spirit.  So in the middle of my library I dropped to my knees, physical stuff now forgotten my mind now on the spiritual.
23 Search me, O God, and know my heart;
      test me and know my anxious thoughts.
 24 Point out anything in me that offends you,
      and lead me along the path of everlasting life.
Psalm 139:23-24
Thank you Lord for reminders of what you expect of us in the most unlikeliest of circumstances.