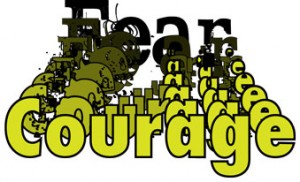 "I will not fear my future when it's in God's hands." — Dineen Miller, a divine seed of a thought planted by God.
Lately I've sensed God preparing me for a change. He's said twice he wants me to walk the path he created specifically for me. At first, I was fearful, afraid it would meant giving up a long-held dream. Then I wondered the opposite. Could it be the realization of that dream? I found myself in a state of trepidation, afraid to hope and scared to think.
Afraid of what my future held.
But even in the midst of my fear, God is gracious and caring. I can look back and see many times where He gave me a sense of something to come, then small words and nudges here and there for reassurance and guidance. Until finally, I recognized the shift in my heart that allowed me to walk forward in obedience and confidence.
God knows how weak we are. We merely need to make the gesture, the first step of willingness, and He comes in and prepares us for what's next, so that we can let go of what we cling to in order to receive something greater.
For I know the plans I have for you," declares the LORD, "plans to prosper you and not to harm you, plans to give you hope and a future. — Jeremiah 29:11
God is not content for us to live, breath, and do what is good when He has a specially designed plan for us that's best. We can choose to walk in fear or we can trust God and allow our fear to be transformed into courage and confidence.
Thus in light of this recent preparation, I'm ready to walk forward on a new path with the reassurance that my future's truly in God's hands and is better than the good I've clung to. I'm ready to go forward and discover God's best.
Praying and believing,
Dineen