Picking up where you left off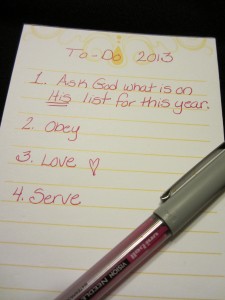 We can get caught up with the New Year celebrations and resolutions being shared, thinking we need to come up with some big plans for the year ahead, but if this time of year finds you struggling just to keep going, don't lose heart. For some people another resolution could end up being the straw that broke the camel's back in what already seems like a mountain of expectations, put on them by others or self-inflicted. Perhaps you didn't get to finish that list of To-do's you wrote down last New Year's Eve, or unexpected circumstances changed the direction you thought you were headed.
      Most of life is picking up where you left off. Living one day after the other doing what is put in your hand to do – like obeying God, serving and loving others. It's not a fancy list of accomplishments, but it's what God asks us to do, plain and simple.
      I'm  not against lists, they can be great reminders of our goals, and sometimes we need to be reminded. As a matter of fact, I usually write a short one at the beginning of every day. But I think it's easy to become discouraged with once a year resolutions when we're unable to accomplish everything we set out to do, and sometimes we forget that God may have a different list in mind for us.
      I like the idea of getting a fresh start, with a "new" year and all, but I'm glad it isn't just once a year God gives us a fresh start. His love is steadfast and His mercies are new every morning.
The steadfast love of the LORD never ceases,
His mercies never come to an end;
they are new every morning;
great is your faithfulness.
Lamentations 3:21-24 (NRSV) 
 He does have things for us to accomplish, and He wants us to make the most of our time –
See then that you walk circumspectly, not as fools but as wise,
redeeming the time, because the days are evil.
Therefore do not be unwise, but understand what the will of the Lord is.
Ephesians 5:15-17 (NKJ)
It's not as much a written list on paper as it is a list written on the heart…to love, serve, obey and give thanks. He wants to direct our lives on a daily basis.
      Don't fret if you didn't get that resolution list completed in time, life isn't chopped up in pieces, it flows continuously from beginning to end, just pick up where you left off and ask God to share His list. I know He has some amazing things in store for you this year, more than you could ask or even imagine (or write on a list) – "…exceedingly abundantly above all that we ask or think" Ephesians 3:20.
It's not only a Happy New Year I hope for you, but a Joy-filled, exceedingly abundant life.
From my heart,
Charlotte