A few days ago, I went to see my friend Rose in the hospital. After months of health problems, I heard she'd suffered a seizure and was heavily medicated. I had no idea that she'd be unrecognizable. I went into her room and promptly came out thinking they'd given me the wrong room card. The patient I saw looked like a child-size emaciated refugee from Auschwitz, nothing like the Rose I knew. Three times I came out and three times the nurses assured me that the patient was indeed Rose.
So I went in again and starting talking to Rose. She shifted toward me. I talked some more. Her hand opened and I clasped it in mine. And then she spoke. Not words, just some sounds. But I knew. The voice was unmistakable. Rose's distinctive husky voice.
I stayed a while, praying and sharing Scripture with her. It soothed both of us.
At first glance (and second and third glance), all I saw was a twisted knobby skeletal frame. But when I heard her voice, I knew that sweet, gentle Rose was inside the thorny brambles.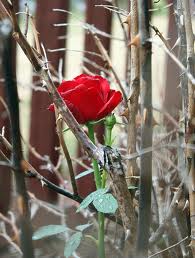 It's like that with life sometimes.
I see the briars, the thorns, the brambles. I see a dark complex maze of problems and issues. And then, in the midst of it all, I'll hear God's unmistakable voice. I'll sense Him in the midst of it all. And it soothes me. Then I can see past the mess to the message inside.
I'm so grateful for His presence in ALL things. No matter how difficult things appear, He's there.
I pray you aren't going through a thorny time right now. But if you are, be assured. He knows, He cares, and He wants to speak to you in the midst of it all. These are the times that grow our faith, when we can't see for ourselves and so must trust.  Listen for that gentle voice and let Him lead you through.
.
Therefore we do not lose heart. Though outwardly we are wasting away, yet inwardly we are being renewed day by day. For our light and momentary troubles are achieving for us an eternal glory that far outweighs them all. So we fix our eyes not on what is seen, but on what is unseen, since what is seen is temporary, but what is unseen is eternal.  2 Cor. 4:16-18
Much love,
Susan
Ps – I saw my dear Rose today. She's making some progress. She was able to briefly communicate coherently today and even joked. With a smile and chuckle, she said,"The Lord's been good to me. I must have done something right." As you read this or sometime during your day, would you pray for Rose? There are a myriad of issues, health-wise and otherwise, that need divine intervention. Thank you!