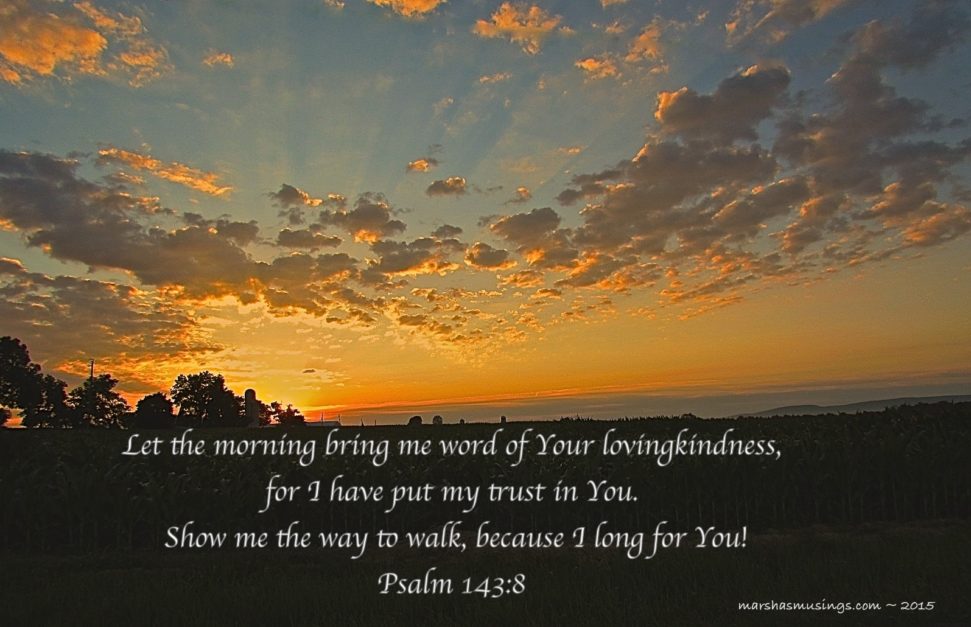 In the stillness of the dawn, He patiently waits. Light finds the slit in the curtain and caresses my face. He's calling me to arise from between the cotton sheets and snuggly blanket to sit with Him between the pages of His Word . . . sacred moments between a daughter and her loving Father.
His Words teach me and guide me on this journey called life. I have more days behind me than ahead of me, and yet each day when He speaks to me through His Word it's something new, fresh, alive.
The first minutes of my waking day are sacred moments to simply sit, reflect and meditate on a small passage of Scripture.
Some days I may only read 3 or 4 verses.Those are the days I usually choose to work on memorizing a short passage by repeating it over and over, each time emphasizing a different word. It's amazing how the meaning of the Scriptures begin to pop right through the page. Other days I may decide to sketch or Bible journal something meaningful to me regarding the morning passage. Another discipline is to journal the page, write it out verbatim or I write a summation – a paraphrase. Either way, I'm expressing my thoughts about what I'm learning about Him, His character, a promise, or a command He wants me to obey. And I always pray the passage aloud – always.
What do you do when you meet with the Lord? Are you meeting Him daily? 
I'd like to share one of my sacred moments with you dear ones. This is a reflection/prayer based on Psalm 143.
O Lord, hear my prayer!  Because of your faithfulness and justice, answer me!
I recall the old days;
I meditate on all You have done, are doing, and going to do;
I muse on the works of Your hands.
I spread my hands out to You in prayer,
My soul longs for You, as a parched land.
Let the morning bring me word of your lovingkindness,
For in You I put all my trust.
Show me the way in which I should walk,
Because I long for You!
Deliver me from anything that takes me from Your side.
I run to You for protection.
Teach me to do what pleases You,
For You are my one and only God.
May Your kind presence, lead me in Your footsteps.  
O Lord, for the sake of Your reputation, revive me!
Rescue me from anything that takes my focus off of You  
As a demonstration of your loyal love,
Destroy anything in my life that takes me from Your side.
I am here on earth to serve You only!  
May Your will be done in my life, on earth as it is in heaven.  
I love You my Abba Father, with all my heart, soul, and mind!!
Amen