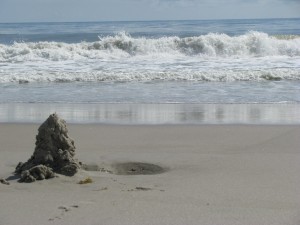 When I saw this sandcastle last fall, I wondered who started digging and why they stopped. Did they realize their efforts would soon be fruitless and washed away to sea? Was high tide coming? Did they did distracted? Was it time to go home? What?
Seeing this blob of sand makes me think about my life. I've wasted years building on sandy ground. At one point, I chased vanity, material possessions, entertainment, and the cheap pleasures of our culture. Nothing remained when the storms of life came. I found myself broken, bankrupt and back to ground zero every time. What a waste of effort!
I craved something that would stand firm when storms came. That's where God and His Word comes in. When I turned back to Christ, I started building on the Rock. Over time I could tell the difference. Solid planks of truths started replacing flimsy lies. Instead of panic, I chose prayer and praise. Even after a storm, I had something to hang onto. I had hope.
So tell me what's going on with you? Are you in a storm, bracing for heavy rains and hurricane winds? Feeling scared or hopeless?
If so, I want to encourage you. Remember how far you've come since those sandcastle days. Remember what your life is built on today: the Rock. Not sand. Remember what really matters most: your rock solid relationship with Jesus. Your heart connected to His.
When You have the creator of the Universe on your side, you can rest during the storm like Jesus did. Breathe easy, my friend, your foundation is secure in Him.
So this is what the Sovereign LORD says:
"See, I lay a stone in Zion,
a tested stone,
a precious cornerstone for a sure foundation;
the one who trusts will never be dismayed, Isaiah 28:16(NIV).

*****
But now, this is what the LORD says—
he who created you, O Jacob,
he who formed you, O Israel:
"Fear not, for I have redeemed you;
I have summoned you by name; you are mine.

When you pass through the waters,
I will be with you;
and when you pass through the rivers,
they will not sweep over you.
When you walk through the fire,
you will not be burned;
the flames will not set you ablaze, Isaiah 43:1-2(NIV).
Thank you, Jesus, for teaching me how to build my life on the Rock. All other ground is sinking sand.

*** For further devotion, please consider reading Matthew 7:24-27 about building on the rock or sand.
Enjoy today!
Tiffany at Tea with Tiffany