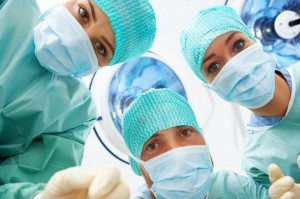 Sometimes surgery is needed for healing.
My 12 year old daughter recently had a "minor" surgery on her ear. Ashley had tubes put in her ears several years ago, and the right tube, stubbornly, would just not fall out.  It had been in Ashley's ear for three years and the ear was starting to grow around it.  Leaving the tube in her ear could cause problems down the road, including hearing loss.
Sometimes surgery is needed for healing.
So….we made the decision to have the tube surgically removed.  Ashley also had to have a "fat patch", which entailed taking fat from behind her ear lobe and filling the hole left by the tube.
As a parent, you never like to see your child go through a surgery.  It can be scary to know she will be "under" and then wheeled away from your watchful supervision under the care of someone else.
But, sometimes surgery is needed for healing.
Ashley was in pain for several days after the surgery.  She had stitches that needed to fall out.  She had a sore throat from a breathing tube.  Her voice sounded strained.  She was tired and needed to recover.
But, surgery was needed for healing.
The same can be said spiritually.
God sometimes needs to "surgically" remove things from our hearts- pride, lust, greed, unforgiveness, bitterness, jealousy, anger, hatred….
Sometimes it is painful and there is a recovery process.
Sometimes it seems scary while we are going through it.
Sometimes we have to close our eyes and simply trust that we are being cared for.
But, surgery is needed for healing.
Thankfully, we can trust that God is precise.  He is wise and knows what He is doing.  He is capable and skillful.  He is the master surgeon.  He knows what He must do in order for our healing to take place.
"God heals the brokenhearted, binding up their wounds." Psalm 147:3
Father God, I bless Your Name.  I praise You and give You all glory and honor and praise.  Thank You that You know exactly how to heal me, even when it means that You must perform surgery on my heart.  Thank You that You love me so much that You desire to heal my broken heart.  Lord, I surrender to You.  I give You my heart and ask that You remove anything that is blocking my hearing.  I ask that You remove anything that does not belong there.  Get my heart right.  Heal me.  Thank You, Lord.  In Jesus' Name we pray.  Amen.
"Recovering Post-OP" with you,
Tracy