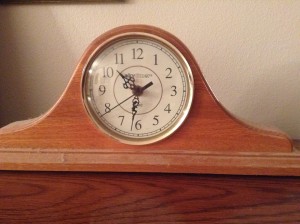 "But do not forget this one thing, dear friends: With the Lord a day is like a thousand years, and a thousand years are like a day."  2 Peter 3:8 (NIV)
Time.  There are days that it speeds by at break-neck rates.  Other times, the seconds tick what seems like eons.  Our perception of time seems to vary according to our mood and activity.
When my seven year old was younger, he would bug me relentlessly about time. "How much longer? Why can't we go now?  How many minutes has it been? How many more minutes to go?"  And on and on it went.  His understanding of time never seemed to interface with the reality of time.  I would explain in relatable concepts- we will take our trip after three more "night-night's."  Or,  "We will leave when Daddy gets home."   When he became more sophisticated, it was, "It will be time after 1 "SpongeBob" or 1 "I-Carly."  (one being a 15 minute show, the other, 30 minutes.)
As adults, we are keenly aware of the passing of time.  We mark it differently- work days, days off, vacation time, etc.  Most of us agree, time generally speeds quicker than we  can comprehend.  But…but when we are waiting on God…we are reduced once more to that little child whining, "Are we there yet?"
Waiting on God to perform something, that only He can perform, can press our patience to the limit.  We get frustrated, disheartened, and occasionally -we flat give up.  I wonder how Abraham and Sarah felt waiting 25 long years for the realization of the promise? A baby to call their own.  The child of promise.
Surely, the nights of romance and scented candles had slowed to a dull roar in 25 years.  The faith it took them to continue to "pursue the promise" would be daunting to say the least, at the young ages of 90 and 100.
I have a few "promises-yet-to-be-fulfilled" that I am waiting on.  And waiting…and waiting some more.  My mind tells me it would be easier to give up than to press on.  Oh, but my heart yearns for His promise to be fulfilled.
You, too? Do you have a promise that relentlessly pulls on your heartstrings?  A desire dragging you on an emotional roller coaster ride?  One that never seems to slow to a complete stop so you can bail out?
As I prayed recently, "Lord, fulfill the promise or take it from me, it hurts too much to keep hoping and not receiving…"  I heard the Lord gently whisper to my heart:
A delay is not a denial.
A.  Delay. Is. Not. A. Denial.  Just because I do not have it, does not mean I will not have it.  Just because I do not have it, does not mean it is a "no" from God.  Sometimes a delay is simply that: a delay.
Yes, a day is like a thousand years with the Lord.  I struggle to set my watch to "Jesus time" where the response is slower- less hurried, more intentional.  The hands on God's clock have stopped, it seems, the face has become dusty.  The answers seem stalled. But it does not mean that He will not fulfill it!  Time is our hang-up.  Not His.
Are you waiting (im)patiently for a spouse?  A child?   A job?  A ministry to unfold? A loved one to come to Christ?  Don't give up, child of God.  Your times are in HIS hands.
Dear God, help those who are struggling to hold on during a waiting season.  Help them have hope spring anew in their hearts.  Give them grace.  Increase their faith.  In the matchless Name of Jesus, Amen.
© Sherri Evans Ministries 2015. All rights reserved. Used by permission. For booking schedule and information: sherrievans@sherrievansministries.com