This Messy Journey Called Life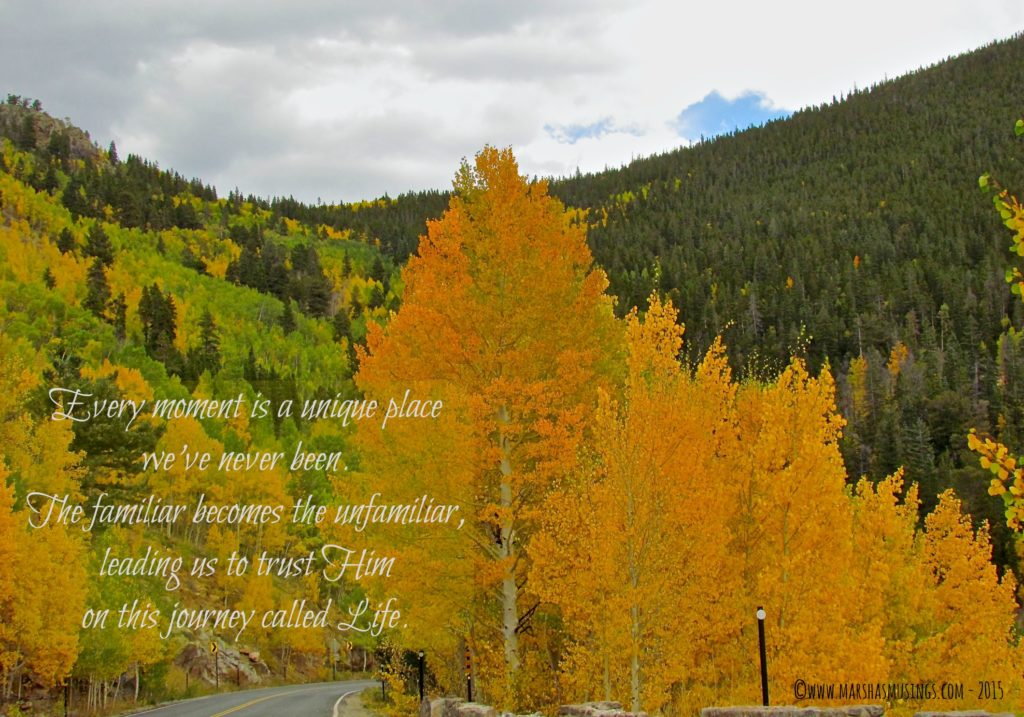 It's amazing how we can have the same routine every day and suddenly an unexpected curve appears and everything changes.
As a counselor, I've been doing a lot of grief counseling the past few years. Little did I realize God's been preparing me for some unexpected changes in my life. I'll share more about this life change in the weeks to come. For now, I thought I'd share some words of encouragement that I've shared with others and now find myself in need of hearing them. I pray they will encourage you as well.
Every moment is a unique place we've never been. The familiar becomes the unfamiliar. Trusting our unchanging God when we're traveling uncharted territory is vital to finding hope. Sorrow, suffering, brokenness, are all an inevitable part of our journey. We could not know love without loss and sorrow, joy without suffering, and peace (wholeness) without brokenness.
When you're trying to find your way through the messy road of hurt, cling to what you know is true—-we have an unchanging God. That doesn't mean the road of hurt to healing and hope is going to be easy; it will more than likely be a messy journey full of detours. And your journey is not going to be like someone else's—-it's a personal journey with a personal, loving God traveling the road with you. I wish there were five easy steps to no longer feel your pain, but there's no such thing. What you do have are cross-shaped blazes marking the way to finding hope, reminding you of the truths found in God's Word. Christ is your hope of glory, your hope for healing and peace. Based on the truths found in God's GPS system (His Word), I can promise you, you will get through this. He is with you because He doesn't leave you to walk this journey alone.
Grief tempts us to walk alone because it's raw and messy and we don't want to be seen as weak. Fight against that temptation to walk the trail alone. Walk knowing He is with you and ask Him to bring godly friends to walk beside you on this path to healing. They will be "Jesus with skin on' as you journey through the messy paths of life.
"For in hope we have been saved, but hope that is seen is not hope;
for why does one also hope for what he sees?
But if we hope for what we do not see, with perseverance, we wait eagerly for it."
Romans 8:24,25
Lord, I know You promise to always be with us—even when we might not see You. Help us to place our trust in You and place our hope in Your promises. We're all either walking into a storm, walking in a storm or walking out of a storm. Bring friends alongside us, to take the journey by our side. In Jesus Name, Amen.