Uncertainty, Cancer, and An Unchanging God
The world seems to be spinning out of control lately. The daily news is a deafening cacophony of unrest, uncertainty, and chaos. People are angry and anxious. Life, as we knew it growing up, has changed.  Change can be harsh and create even more mounting tensions. I believe there will continue to be hard days ahead for the inhabitants of this old world.
But this one thing I know for sure: Because Jesus overcame the world, the troubles of this world will not destroy us. Our "normal" ways of life may be over, but He's making all things new. As Ann Voskamp, once reminded me, we have unwavering peace today when an uncertain tomorrow is trusted to an unchanging God.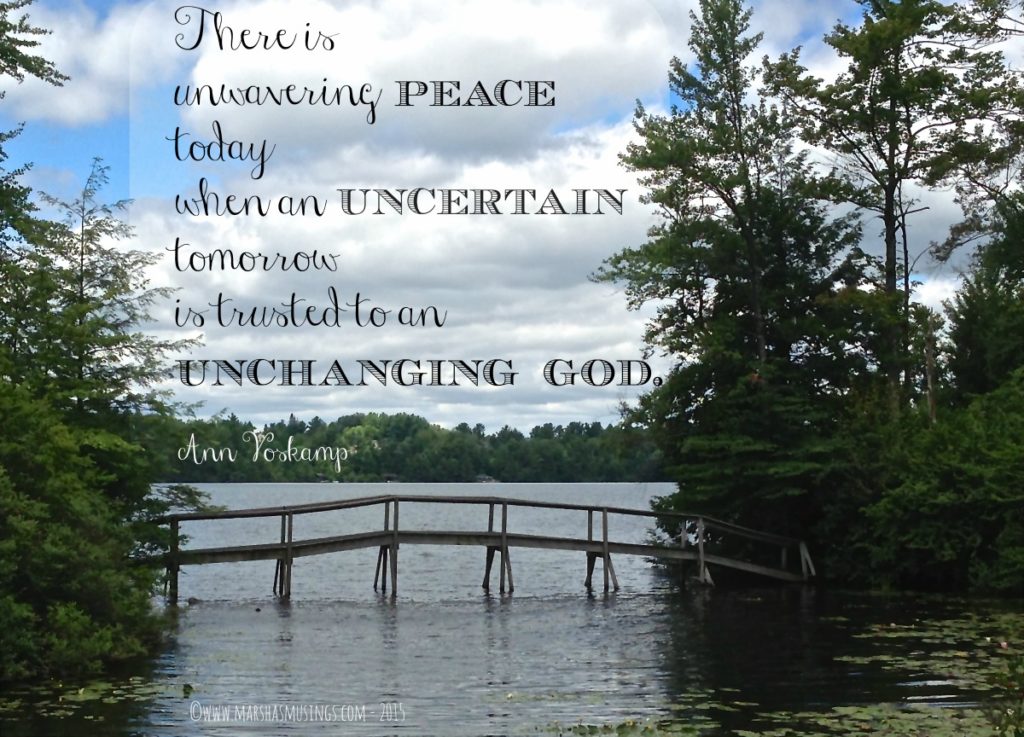 In June my "normal" was put to the test. After a "routine" mammogram was followed by more tests and a needle biopsy, one Friday a couple of weeks later I received "the call" that no one wants to receive.
"Marsha, you have invasive ductal carcinoma. We've scheduled you to meet with the breast surgeon first thing Monday morning."
This woman who loves to talk and write was speechless and unable to write the results down without the nurse spelling each word for me. The month of June and the first week of July became my own personal cacophony of uncertainty and chaos. My world was turned upside down, summer plans my husband and I had made needed to be changed, my 93-year-old Mother needed to be given the news, all the while wanting desperately to celebrate the birth of my newest granddaughter who is named after my Mom, Eleanor. 
Now is my time to "practice what I preach" as a counselor who meets with broken and grieving women. Now is my time to find peace during my personal encounter with uncertain tomorrows by trusting in an unchanging God. Breast Cancer may have succeeded in changing my plans and taking a part of my body but, it can not destroy me. Jesus overcame the troubles of this world and I find my identity in Him. By His mercy and grace, I WILL overcome this battle! As I told my Mom, more than anything, I want this to bring me (and all of my family) closer to God, to let my (our) faith be bigger than my (our) fear.
It's a day to day, sometimes moment by moment process. It's my choice to choose peace rather than chaos, faith rather than fear, and to trust my unchanging God rather than fret over things I have no control over.  Today, I choose to trust. I choose peace. I choose joy. I choose to be grateful. And tomorrow when I wake up, it will be another today, and I will choose to trust. I will choose peace. I will choose joy.  I will choose to be grateful. My life is in His hands. I will trust in knowing He is carrying me through this cacophony of uncertainty. I have hope in an unchanging God.
My surgery, a partial mastectomy, is scheduled for tomorrow (Tuesday, July 26) and radiation treatments begin Wednesday, August 3. I'll be off the writing schedule for a few weeks while I go through this part of my cancer journey. I will miss you, but will try and post on my FB wall occasionally. My family and I would covet your prayers.
"I have told you these things so that in Me you may have peace. In this world you will have trouble. But take heart! I have overcome the world." John 16:33