We all need to be rescued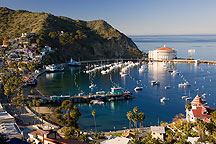 My sister and I recently took a trip to Catalina Island – off the coast of Southern California. We had a wonderful time together — watching dolphins frolic in the ocean on a boat ride, viewing sea lions and harbor seals lounging on the beach, riding in a jeep to see the mostly-undeveloped island up close. It's a beautiful place. Our bed and breakfast was lovely, but as we were relaxing one afternoon we heard the plaintive cries of a nearby cat.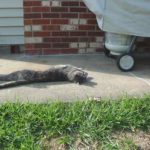 The cat was on the patio of the house next door, and his meowing was loud and sad. When my sister inquired of the inn's owner, she was told the cat's owner died about three months ago and he missed his owner.
The next day we continued to explore the island, but my cat-loving sister could not get the lonely cat out of her mind. As we went back to the inn that afternoon, she stopped off and paid a visit to the cat, bonding with him for about a half hour. She made further inquiries and got the phone number of the cat owner's son.
A few days later my sister made several calls to Catalina Island – the end result is that she is traveling back to Catalina to rescue the cat. She will either find him a home or keep him, but she could not bear to leave him all alone.
As I thought about the lengths to which my sister has gone to rescue this cat, it reminds me of how God rescued me. I was living my life, doing my own thing, a typical teenager in Southern California. But I knew I was missing something crucial–something I couldn't live without. In my heart I was crying out for more – for the love of a heavenly Father. God heard my cries and called me unto Himself. He rescued me.
Jesus teaches about rescuing the lost in the parables. The parables in the bible are not about a lost cat, but a lost sheep, coin and son. The meaning is the same. In Luke 15 Jesus taught about the lengths God will go to rescue His people. Whether it is one lost sheep of 100, one lost coin out of ten, or one prodigal son, at the end of each story there is great rejoicing:
I tell you that in the same way there will be more rejoicing in heaven over one sinner who repents than over ninety-nine righteous persons who do not need to repent. Luke 15:7
God hears the plaintive cries of humans and desires to rescue them all. His love is abundant. His grace is abundant. Praise be to God!
In your righteousness, rescue me and deliver me; turn your ear to me and save me.  Psalm 71:2
The Lord will rescue His servants; no one who takes refuge in Him will be condemned.  Psalm 34:22