What's the Length of Your Shadow of Influence?
"The memory of the righteous is blessed, but the name of the wicked will rot."
Proverbs 10:7
January 2, 1967 the Lord called a beloved saint home to be with Him at the age of almost 90. The length of her shadow of influence is still touching lives today, 42 years after her home going.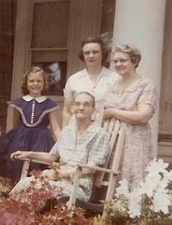 When I was 10 years old, we moved into the upstairs apartment in my Grandmother Reta's home. It was a beautiful old Victorian complete with pocket doors, glass door knobs, beautiful mahogany bookshelves surrounded the fireplace, a crystal chandelier hung in the drawing room, and a fragrant rose garden in the backyard. But what I remember most about the years we lived there was sitting with my Great Grandma Doty. Recollections are of a woman who had a stroke and couldn't do much for herself.
I remember spending countless hours in her room with her. She sat in a beautifully carved oak rocker that had overstuffed cushions added to it for comfort. There was a large set of windows in her room with white sheer curtains draping them. Under the windows was a large end table with an old radio, a lamp, Billy Graham's "Hour of Decision" magazines, and her Bible that contained several pages that I had painstakingly taped back together after it had slipped off her lap. After that she usually waited until I returned home from school and I would read her Bible to her. She would tell me where to start and stop. When I would stop, she would tilt her head back, close her eyes and pray out loud, praising God. As a young preteen girl, it seemed like it went on forever!
When she was finished with the Bible reading she would tell me to leave the room and wait outside her door while she entered what she called her prayer closet. Sometimes she would tilt her head back and actually place a white handkerchief over her face so she would not be distracted. I couldn't go anywhere while she was praying because she said she might need my help with something. That's what she said, but I think there was another reason. I think she wanted to give me a glimpse of the legacy she was leaving me. I think she wanted me to understand the extent of her love for me and for God in a way that I would not even begin to understand for many years to come.
As a young girl, I thought her prayers were foolishness. She prayed "for the heathens in Africa who don't know Christ as Savior. Send someone to them Lord, send someone to shine Your light in the darkness". She prayed for her children, her children's children and their spouses. I would hear her name my siblings and my cousins plus any of my generation that were "yet to be born". She would pray for our spouses, too. How foolish I thought! I'm just a kid, why is she praying for who I might marry some day? Then she would continue with her praying for the generations that she would never know. She prayed for my children (and my siblings and cousins children). She would pray for my children's children. She prayed for the spouses of my children and my grandchildren. And then she really went out there…she prayed for my children's children's children (my great grandchildren) and their spouses. Six generations!
Everyday! As she prayed I would marvel at the warmth in her voice and the love and tears that flowed, like she knew all these people. Those endearing prayers were like a tender embrace around each person.
A few weeks ago I found myself sitting in an old oak rocking chair in my bedroom looking out a window draped in white sheer curtains and holding Grandma Doty's Bible. I had such a deep sense of love and gratitude for her and the legacy she left me. For the tears she shed for me and mine and for those who don't know Christ. For showing me years ago how to pray fervently for something that I may never see come to pass in my lifetime.
I tilted my head back in the chair, closed my eyes and begin to pray 6 generations. Nothing new, I'd been doing that for years because of the example she set for me. Suddenly, I felt connected to my precious daughter Laura and her family, including my newest grandchild who will be born in July, 8,000 miles away in a tiny village in Kenya, Africa. For you see, even in this Grandma Doty's prayers are being answered over 42 years later. Her prayer for "the heathens in Africa who don't know Christ as Savior. Send someone to them Lord, send someone to shine Your light in the darkness." I've often wondered, did she ever think it would be one of her own descendants that would answer the call and give birth to yet another generation in that far off land?
As I clutched her worn black Bible, I placed a photo inside of my recent trip to Kenya. I was blessed to be able to share Grandma Doty's legacy with a precious group of ladies. I even taught from her Bible.
They were deeply moved to know that 100 years ago there was a Godly woman in America praying for them to come to know Jesus as Savior. They were amazed as the story unfolded and they realized that one of the messengers God would send would be a great, great grandchild she had never met and yet had prayed for. They were encouraged to know that even though they are not yet able to read the Word of God for themselves, they can still leave their own legacy of righteousness by praying for their descendants.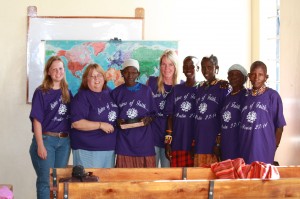 Nadatade holding Grandma Doty's Bible
 
Father, today I thank You for the awesome privilege of influencing future generations through prayer. May I never grow weary of praying, even when I may not see the end results.Protect my family and my new dear friends in Kenya. May they continue to grow in their love for You.I love You, Lord!
Your Humbly Grateful Daughter,