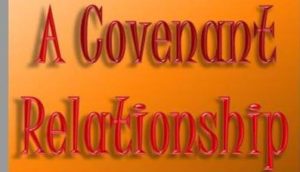 Isaiah 42:16 (NIV) I will lead the blind by ways they have not known, along unfamiliar paths I will guide them; I will turn the darkness into light before them and make the rough places smooth. These are the things I will do; I will not forsake them.
I am always excited when I am invited to a wedding. Having two daughters, I have experienced the joy of preparing for the wedding day, then seeing the happiness of the young couple as they start their life together.
I have attended many weddings through the years and it seems that each one has its unique moments. However, during the wedding ceremony, often the minister instructs the couple that they are entering into a covenant relationship. A covenant relationship is based upon mutual commitments where two or more parties come together to make a contract, agreeing on promises, stipulations, privileges, and responsibilities.
As the bride and groom begin the traditional wedding vows, each are asked a question and the first words they speak are, "I will." Couples promise "to have and to hold, from this day forward, for better, for worse, for richer, for poorer, in sickness and in health, to love and to cherish till death do us part." With dreams and expectations of the future I wonder how many couples comprehend what they have promised on that day. One comes to realize the depth of the meaning of these vows over time as challenges and difficulties arise. The covenant relationship is tested and at times, the covenant is broken.
As I thought of these vows I considered the covenant relationship God has promised to those who enter into a relationship with Him.
"To have and to hold" Psalm 37:23-25 (NLT) The Lord directs the steps of the godly. He delights in every detail of their lives. Though they stumble, they will never fall, for the Lord holds them by the hand.
"from this day forward" Psalm 121:8 (NLT) The Lord keeps watch over you as you come and go, both now and forever.
"for better" Psalm 63:3 (NLT) Your unfailing love is better than life itself; how I praise you!
"or for worse" Romans 5:6 (NLT) When we were utterly helpless, Christ came at just the right time and died for us sinners.
"for richer" Proverbs 22:4 (NLT) True humility and fear of the Lord lead to riches, honor, and long life.
"for poorer" Psalm 72:12 (NLT) He will rescue the poor when they cry to him; he will help the oppressed, who have no one to defend them.
"in sickness" Psalm 41:3 (NLT) The Lord nurses them when they are sick and restores them to health.
"and in health" Isaiah 38:16 (NLT) Lord, your discipline is good, for it leads to life and health. You restore my health and allow me to live!
"to love and to cherish" Psalm 36:7 (NLT) How precious is your unfailing love, O God! All humanity finds shelter in the shadow of your wings.
"till death do us part." 1 Corinthians 15:54-56 (NLT) Then, when our dying bodies have been transformed into bodies that will never die, this Scripture will be fulfilled: "Death is swallowed up in victory. O death, where is your victory? O death, where is your sting?"
The covenant relationship God offers will never be broken for it is written with the blood of His Son, Jesus Christ. This new covenant brings life, hope and peace between God and man. God promises that this covenant of love will never be removed.
 Deuteronomy 7:9 (NLT) Understand, therefore, that the Lord your God is indeed God. He is the faithful God who keeps his covenant for a thousand generations and lavishes his unfailing love on those who love him and obey his commands.
As stated earlier, the covenant relationship requires mutual commitment between two parties.
When God says, "I will!" He does.
Will you?