I have recently enjoyed getting in touch with high school friends on Facebook.  It is interesting to read "walls" of comments….and what people choose to write (even though anyone can read it!).  I have gotten in touch with old classmates and it is interesting to see them now all grown with children and families. 
I have been "following" one particular girl that I knew in high school.  She often writes about partying and being attracted to men.  I have been praying for her and waiting for an opportunity to share my faith with her.  The chance came on Easter.  I've noticed that "Janey" takes many of the Facebook quizzes…..things like, what color are you, what character are you, what 80's song tells your story…  But, on Easter, Janey took the quiz "Where will you go when die?"  Her comments following the quiz opened a door to a conversation.  The quiz said that because she helped people and always tried to be good and live a good life, she would enjoy going to Heaven. 
She seemed a bit confused.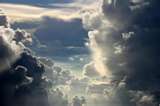 But, I knew it was something she was thinking about since she took the quiz.
One friend commented on her wall that salvation comes from believing in Jesus, not in what we DO.  But, another girl said, "Oh, you're going to heaven!  We all are. "
Whew!  Bells and whistles went off!  I commented in agreement with the first friend and warned "Janey" to be careful in thinking we "all" are going to Heaven.  There is only one way to Heaven….through Jesus Christ.  Jesus says, "I am the Way, the Truth and the Life.  No one goes to the Father, except through Me."  And, Jesus tells us that wide is the road that leads to destruction and many will go down it, but the narrow road leads to life. 
Unfortunately, we have people who will whisper to us, "It's OK.  Don't worry.  Go along with the crowd.  Live how you want.  You'll go to heaven.  You're a good person."
We live in a world where we can be distracted and seduced and lulled into thinking we are "safe" because we are "good", especially compared to others around us.  We live in world that tells us there are many ways to heaven, Jesus being only one.  We hear that saying Jesus is the ONLY way is being bigoted and closed minded.
"I am the Way, the Truth, and the Life.  No one comes to the Father, except THROUGH Me."  John 14:6
But, Jesus didn't say He was A way, or ONE way, but THE (one and only) way to the Father. 
Have YOU given your life to Christ?  Have YOU accepted Him as Your Lord and Savior?  Have YOU admitted that He is the ONLY way to salvation?  Have YOU fallen to your knees, asking and receiving His forgiveness?  Have YOU proclaimed Him as Lord?  Have YOU surrendered to Him and His love for you?
Lord, You are my salvation.  You are the only way to Heaven.  I confess I am a sinner and need Your forgiveness.  I surrender my heart to You.  I accept You as my Lord and my Savior.  In Jesus' Name I cry out.  Amen.

Blessings to you as you grow in Him! 
I would love for you to visit my personal blog: