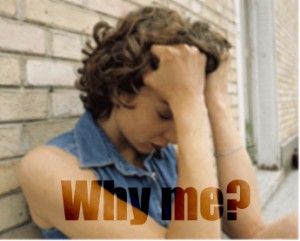 Have you ever whispered these two little words, hoping no one hears the whining in your voice?
Ever shouted them out in a full blown "pity party?"
Or, have you ever listened to a loved one tearfully question their circumstances as you listen, heartbroken for them?
Does it ever seem like some people have a harder time in life than others? More things seem to go WRONG in life….hospital visits, job lay offs, losses of loved ones….
"Why me, God? Why is it always ME????"
As I was pondering this, it occurred to me that maybe it isn't just "ME". Maybe "things" aren't "perfect" in others' lives- as they seem.
We don't always see the hardships of others- those who bear their burdens alone.
We don't see the new mother quietly suffering from Postpartum Depression, crying every sleepless night.
We don't realize our friend is a closet bulimic. She hides her terrible secret as she is caught in a bottomless pit of binging and purging, slowing destroying her body.
We are unaware that sweet girl who checks out at the grocery store is suffering from the abuse of her father. We don't know that each day she hears, and believes that she is worthless.
We don't know that the young mom at church is battling cancer. She doesn't share her struggle with "strangers," but chooses to battle alone.
Some of us bear scars from childhood- perhaps abuse or molestation.
Some are still suffering from unkind words from adolescence- teasing about being overweight or having acne or wearing braces- embarrassing words that still sting years later.
We can often get caught in a trap, thinking we are the only one who suffers, who is suffering. We can mistakenly assume that "everyone else's" life is wonderful. But, Jesus tells us that we will ALL endure trials here on earth. But, Jesus gives us tremendous hope, promising that He has overcome the world!
Paul, in his letter to the church in Corinth, shares his suffering and pain, but always enveloped in his message of hope through Jesus Christ.
"We are hard pressed on every side, but not crushed; perplexed, but not in despair; persecuted, but not abandoned; struck down, but not destroyed. We always carry around in our body the death of Jesus, so that the life of Jesus may also be revealed in our body…..Therefore, we do not lose heart. Though outwardly we are wasting away, yet inwardly we are being renewed day by day. For our light and momentary troubles are achieving for us an eternal glory that far outweighs them all. So we fix our eyes not on what is seen, but on what is unseen. For what is seen is temporary, but what is unseen is eternal." -2 Corinthians 4:8:10, 16-17
Through Jesus, we have HOPE eternal! And, our temporary trials and suffering can not even compare to the hope we have!
Especially at this time of year, share with others both your difficult circumstances and the HOPE, peace, and joy you experience through Jesus. Let others know that they are NOT the only ones experiencing difficult times. Encourage them by sharing Christ's love.
Paul begins his letter by praising this mighty God and encouraging us to COMFORT one another.
"Praise be to the God and Father of our Lord Jesus Christ, the Father of compassion and the God of all comfort, who comforts us in all our troubles, so that we can comfort those in any trouble with the comfort we ourselves have received from God."
Lord, may I always be a positive encourager. God, give me eyes to see the hurting. Open my eyes to those who need my comfort. Help me not to focus on my trials, Lord, but on You, Jesus and my glorious hope in have in You. In Your precious name I pray. Amen.