I know I'm not the only one to feel inadequate most days in life. I often feel as I am not a good Mother or wife. I feel like I fail a lot and, trust me, I do fail a lot. I am not a natural with children even though I have 3 small boys. I am human and I am selfish. There are some days where I am barely keeping my head above the laundry,dishes,cooking meals,and teaching school. Some days I have to escape to the bathroom to read a snippet of the Word of God or a devotion and take a deep breath.
I know there are other Mom's and other Christians that are in the same boat. We aren't meant to be able to handle things on our own. We aren't meant to be able to handle the cares of the day on our own. That is not how we are wired. I often tell others that I am a weak,weak woman who needs a very strong and mighty God. I am not afraid to admit in myself,in Heather, I am weak.
Glory to God that is not how it has to end or where it has to stop. It does not have to stop there for anyone. If you have trusted Jesus as your Savior then you can lean on Him and be strengthened through Him. If you have not trusted Jesus as your Savior,but you are tired of carrying the load and trying to feel adequate for your job or calling I have great news. You can surrender to Jesus and  have the peace and the confidence that God offers to all. With God all things are possible. We can do what God has called us to do and do it well.
And Jesus looking upon them saith, With men it is impossible, but not with God: for with God all things are possible. Mark 10:27 
One of the most well known verses from the apostle Paul is, "I can do all things through Christ which strengthens me." Philippians 4:13 When God calls you to something, whether it is working inside or outside of your home He will strengthen you to do it. We do not have to find confidence in ourselves,we cannot find confidence in ourselves. All of our confidence has to lie in Jesus Christ. I don't have to be stressed or overwhelmed when it comes to home schooling and trying to raise my children in God's ways. He will strengthen me and He will give us the wisdom I need. When I feel like I cannot go on,He will uphold me. The same with you. When you just feel you cannot do it anymore, you can. If God is your God and if Jesus is your Savior,then you can do just what God has appointed you to do.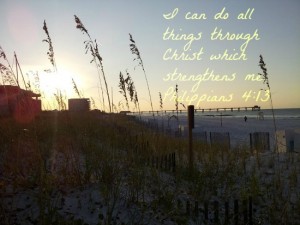 Often what we don't see ourselves as,God sees us just as that. God calls us to do things that we do not think we can do so that we rely on Him and put all our trust in Him. We cannot boast on ourselves,but only glorify our Lord. Today our Pastor shared thoughts on some of these verses with us and encouraged us to not trust in our own faithfulness,but to turn to the Faithful One,God. He talked about Gideon and how God told wanted his army small so that Israel could not boast in themselves,but only boast on God's strength.
So take courage and ask the Lord to give you His strength to do what He has called you to do. Jesus tells us in John 15:5 this: "I am the vine, ye are the branches: He that abideth in me, and I in him, the same bringeth forth much fruit: for without me ye can do nothing."

Where do you get your confidence? Take time to look into your heart and life to make sure it's from Almighty God.
Lord, I know I cannot do anything without Your help and without Your Spirit. I fail so much every day and desperately need You. Help us to put our confidence in You and not ourselves. May we rely on Your strength and on Your Word to equip us to accomplish what You have called us to do. Let us not boast in ourselves,but only boast in Your Lord. In Jesus name,Amen.