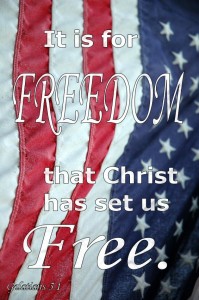 On this special day, Veteran's Day, we are especially mindful of the concept of "freedom."  We are thankful for all of the courageous men and women who have bravely fought and given their lives protecting our freedoms.
I am reminded of the Galatians 5:1 verse that says Christ has set us FREE to be FREE!
"In this freedom Christ has made us free (and completely liberated us); stand fast then, and do not be hampered and held ensnared and submit again to a yoke of slavery (which you have once put off)." Galatians 5:1 AMP
Christ paid such a high price for our freedom- His life.  He did everything that was necessary to make us absolutely FREE.  There is nothing else we need or could ever do to "help" that process.  It is done.  It is finished.
We just need to RECEIVE it and WALK IN IT.
Don't let sin put you back into bondage.
Don't let legalism put you back into bondage.
Don't let striving and trying and DOING put you back into bondage.
It is for FREEDOM that Christ has set you free.
Father God, thank You for Your gift of freedom.  Thank You for the gift of grace and forgiveness.  May I walk in freedom, not burdened by any yoke of bondage.  Praise You, Lord!  I also pray for all of the veterans and their families.  May they experience a flood of blessing and honor today.  In Jesus' Name we pray.  Amen.
Come visit me sometime!

Thirsty for Him,
Tracy