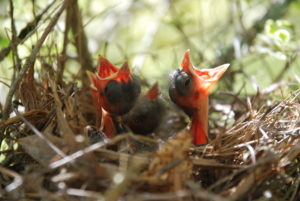 "He has made everything beautiful in its time.

He has also set eternity in the human heart;

yet no one can fathom what God has done from beginning to end."

Ecc. 3:11 (NIV)
True confessions.  I am a bit of a nature nerd.  I love birds.  I chase after sunsets.  The beauty of God's handiwork speaks to me.  I especially love brightly colored birds; cardinals are my absolute favorite.  Last spring when I decided to improve the view from my prayer room window, I added a bird bath and bird feeder in the hopes of attracting birds to frolic while I sit in God's presence.  Going all in, we bought seed for cardinals.  I was delighted the day I looked up and saw a female cardinal perched on my new birdfeeder.  But I squeaked with joy, when a beautiful male joined her, in all of his rich, vibrant color. Tears formed in my eyes.  Not because the birds were special in any way, but because I was special enough to God to bring them to the window- the exact time I was praying.
One day my hubby came in and told me that we had a nest of baby cardinals, that the pair was tending.  I couldn't get my shoes on fast enough.  Imagine my…surprise?  When I saw what a newborn looked like.  Um…not exactly beautiful… not even pretty.  More like, so-ugly- they-are-actually-cute.  Yes!  There they sat.  Mud ugly- but destined to grow into some of the most beautiful birds in all of creation.
The processes of God are so mysterious- so far beyond figuring out.  Why does something beautiful start so ugly?  Why can't things always look exactly like they are going to end up?  Only He knows.  But it also gives me hope…hope for the days that my dreams are in their infancy and they look messy, weird, and hopeless.  Encouragement that if I continue in the process of God, that He is more than able to bring beauty from my ashes.  He is truly able to work all things together for my good.  The ugly stages, the frightening stages, the stages that are more work than reward, yes, even there He is working.
So many of the plans that He works for our lives is like the birth of a child.  We conceive the vision.  We know it but no one else can see it.  We feel it- it even makes us sick, but to the rest of the world, everything looks the same.  In time we are rewarded with proof- but as the belly grows, so does the discomfort.  The closer we are to the birth of the dream, the more we wonder why we ever bought into it in the first place.  The realization of the dream becomes doubtful as we can no longer fit anywhere.
God is working beauty in the ugly of your life. His pain does not come without purpose.  He is a God of process.  But He is also a finisher.  He will faithfully complete the work.
"…being confident of this, that he who began a good work in you will carry it on

to completionuntil the day of Christ Jesus."  Phil. 1:6 (NIV)
Dear Lord, I ask that today you would reveal yourself as the God of all comfort in the lives of those struggling in the process.  Help us to believe that You can bring beauty out of any mess we surrender to You.  Thank You that You are well able to finish all that You begin.  In Jesus' Name.  Amen.