Do you HATE line-jumpers?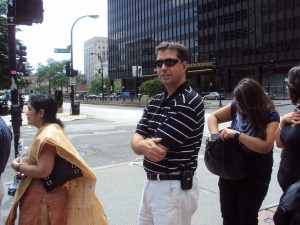 Don't you just hate when someone cuts in front of you in line?  I mean, there you are, politely waiting for your turn, when someone ignores the line and cuts to the front.  Doesn't that drive you CRAZY?
How do you react?
Sigh loudly?  Roll your eyes?
Politely tell the culprit to get to the BACK?
Complain and criticize with everyone else around you?  OR….
Smile sweetly and strike up a conversation with the person?
We were waiting in a (short) line at the movie theater recently.  It was a "bank style" line where there are ropes herding one long line up to the ticket window.  At the window, there were two cashiers.  As we all waited for our turn to walk up to the next available cashier, a woman walked in from outside and avoided the end by heading directly to the window from the side.  HOW RUDE!
Now, what made me especially mad was that she didn't "butt" in front of the person ahead of me, but waited for that person to go to the window.  But, when the next available cashier was ready, she didn't yield to me, but jumped ahead and took MY SPOT!  HOW  RUDE!!
My reaction?
To loudly proclaim to my husband waiting on the sidelines, "How rude!" while giving the lady an "indifferent" look when she glanced my way.
But, when I was alone in the ladies' restroom, the Holy Spirit spoke to my heart.
"Why are you so offended Tracy?  Are you reacting the way I would have you act?  Are you being gracious?  Loving?  Forgiving?"
OUCH.
I then proceeded to take my seat in the darkened theater, call my voice mail, and leave myself a message of how incredibly RUDE I had just been! 
You see, if I look to Jesus, I know how I should treat those "irritating" people.  Jesus tells me to love my enemies.  Well, if I am supposed to love my ENEMIES, then surely, I should show a little kindness to a "line-jumper" at the movie theater!  Jesus tells me in Matthew 5 that "if someone wants my tunic, let him have my cloak as well.  If someone forces me to go one mile, go with him two miles." I see that I need to have an attitude of graciousness, forgiveness, and mercy.  I am not supposed to "get even."  I need to extend grace to others (as I have been so freely given), forgiving them when they make mistakes.  I need to be loving to those who IRRITATE me, and I need to remember that I often make mistakes as well! 
I believe God orchestrates these little "pop quizzes" in our lives.  He wants to teach us to really shine the Light of Christ, and how to be Salt and Light in a dark world.  He calls us to be His sweet aroma in a world that  has a terrible stench of nastiness.
"Live a life worthy of the calling you have received.  Be completely humble and gentle; be patient, bearing with one another in love." -Ephesians 4:1-2
Father God, forgive me for the times I embarrass YOU!  Forgive me for having a selfish attitude and not looking to the needs of others.  Help me to be kind, loving, gentle, and patient with others, even when they "don't deserve it."  Remind me, Lord, that we ALL are in need of Your grace.  Help me to extend that grace freely to others.  Let me always be a reflection of Your Light.  Remind me that I am Your ambassador.  Thank You, Jesus!  In Your precious Name we pray.  Amen.
I would love if you stopped by my personal blog.

  And, if I ever accidentally butt in front of you at the movies, (or cut you off in traffic…or am walking too slowly in front of you….) thanks for your graciousness!  Blessings!