He'll Catch Us If We Fall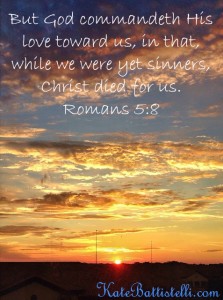 While reading about Jonah in my boy's home-school lesson one evening, the Holy Spirit began to speak to me. Jonah willingly ran from God's command to go to Ninevah. He not only ran, but He told God he wouldn't go. Most of us know the story how Jonah was thrown into the sea and swallowed by a big fish. If not for the big fish Jonah probably would have died we can safely assume. Despite Jonah's blatant disobedience to God's command, God still had a rescue plan for Jonah.
How amazing. That just blew my mind. It reminded me so much of myself. When I willingly disobey God, He still extends salvation to me in some form. It's overwhelming how much God loves us. His love knows no bounds. It's deep and wide. For Him not only to pursue us, but ensure our safety when we're His children, is so humbling. I've been there many times. I chose to disobey willingly and God caught me. He didn't let me destroy myself. Much like He did with Jonah. He rescued Jonah even when He disobeyed.
It reminded me of my boys. Moms, we have a huge responsibility to raise our children to honor the Lord. It's a battle that goes on daily. They may willingly disobey us, but we're there to catch them when they fall. How much more do you think God is there for your children? We can trust Him with our little and big ones. If they are born again by His Spirit, they're safe with Him. It's so hard to remember that, especially when we can't see the whole picture of what's going on. God will catch them when they fall. He will have a rescue plan. He knew Jonah was the man for the job, but He also knew Jonah had to go through the trial and die to his wants. 
God set forth the plan of salvation through Jesus Christ long before it actually took place. He knew that His creation would willingly disobey Him and that they would need to be rescued. How gracious is He. How wonderful and loving is our God. Our sweet Father longs for us and He desires our love back. It really amazes me that if I'm His child, that He is always watching out for me.
Don't give up on your children. Keep praying for them. Keep teaching them. They need our prayers and more than anything they need to be born again by the Spirit of the Living God. It's not easy, but God is bigger than anything they may face.

Lord, I thank You for Your love. Oh it is so amazing. It's so overwhelming. May we never forget the depth of Your love for us. May we always know how much You love us. Let us also remember how much You love our children. They're so precious to us, but even more precious to You. Help us to give them over to Your hands and to cover them in prayer. May our children choose to honor You in all they do. In Jesus' name, Amen.