Hitting the Delete Button!
Anyone who does not love does not know God, because God is love. In this the love of God was made manifest among us, that God sent his only Son into the world, so that we might live through him. In this is love, not that we have loved God but that he loved us and sent his Son to be the propitiation for our sins.
(1 John 4:8-10 ESV)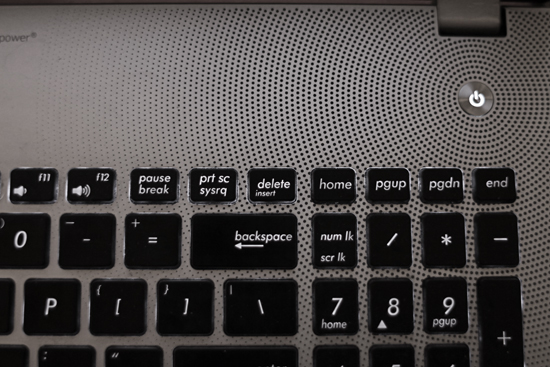 Do you use the delete button on your computer as much as I do? Unwanted emails – delete. Misspelled words – delete. Photographs that did not look good – delete. Sin – delete. Oh no wait, I cannot delete my sin that easily. However, God does through Christ Jesus; if we believe that He died on the cross for our sins.
It is Holy Week. I love to read about Christ's passion in one of the Gospels. This year it is the Gospel of Mark. In Mark 10:32-34 Jesus predicts His death the third time:
And they were on the road, going up to Jerusalem, and Jesus was walking ahead of them. And they were amazed, and those who followed were afraid. And taking the twelve again, he began to tell them what was to happen to him, saying, "See, we are going up to Jerusalem, and the Son of Man will be delivered over to the chief priests and the scribes, and they will condemn him to death and deliver him over to the Gentiles. And they will mock him and spit on him, and flog him and kill him. And after three days he will rise."
(Mark 10:32-34 ESV)
Jesus' disciples did not understand why Jesus would say these things. In Matthew 16:21 Peter rebuked Jesus for talking about His death. Peter did not understand that Jesus' death had to happen in order for him (and us) to be made righteous before God.
Easter is not about hopping bunnies and pretty dresses. The first Easter was bloody and disturbing to Jesus' disciples. However is was necessary in order for us and all mankind to be made righteous before God. God hit the delete button on sin for you and me.
"Lord of heaven and earth. Thank You for sending Your beloved Son to the cross so that I can spend eternity in heaven with You. Lord, the way to the cross was hard and bloody. I am forever thankful for Your great sacrifice. My lips will praise Your Holy name; today, tomorrow, and forever more. In the precious name of Jesus. Amen."
Photo and Content Copyright © – Iris Nelson