If God is Good, Why Do People Have to Suffer?
Life isn't always sunshine and roses. There are also seasons of brokenness and trails that, in their wake, leave lives in a rubble. With every illness, death, tragedy, I hear people asking this question: "If God is good, why do people have to suffer? They don't deserve this. Why doesn't God do something?"
Theologians have discussed this question for years. And this side of eternity, I don't know we will ever have a complete or clear answer. Some of the suffering that occurs is a direct result of "the fall" – when sin first entered the world. (Romans 5:12; Genesis 3)  But from what I read in Scripture and from things I've gone through in my life, I keep coming back to God allows these things to happen so we will seek Him. We read about it in Paul's sermon on Mars Hill in Acts 17:24-27. He's appointed our times and boundaries so we would seek Him.
Are you hurting? Feeling hopeless and lost in the rubble of life?
There's Hope.
My heart hurts for the hurting. I can't even begin to fathom the pain and despair you are experiencing. But this I know, whatever your pain and suffering may be, this is true of God:
He is Faithful.
He is Good.
He is Just.
He is the Giver of Hope.
He loves you.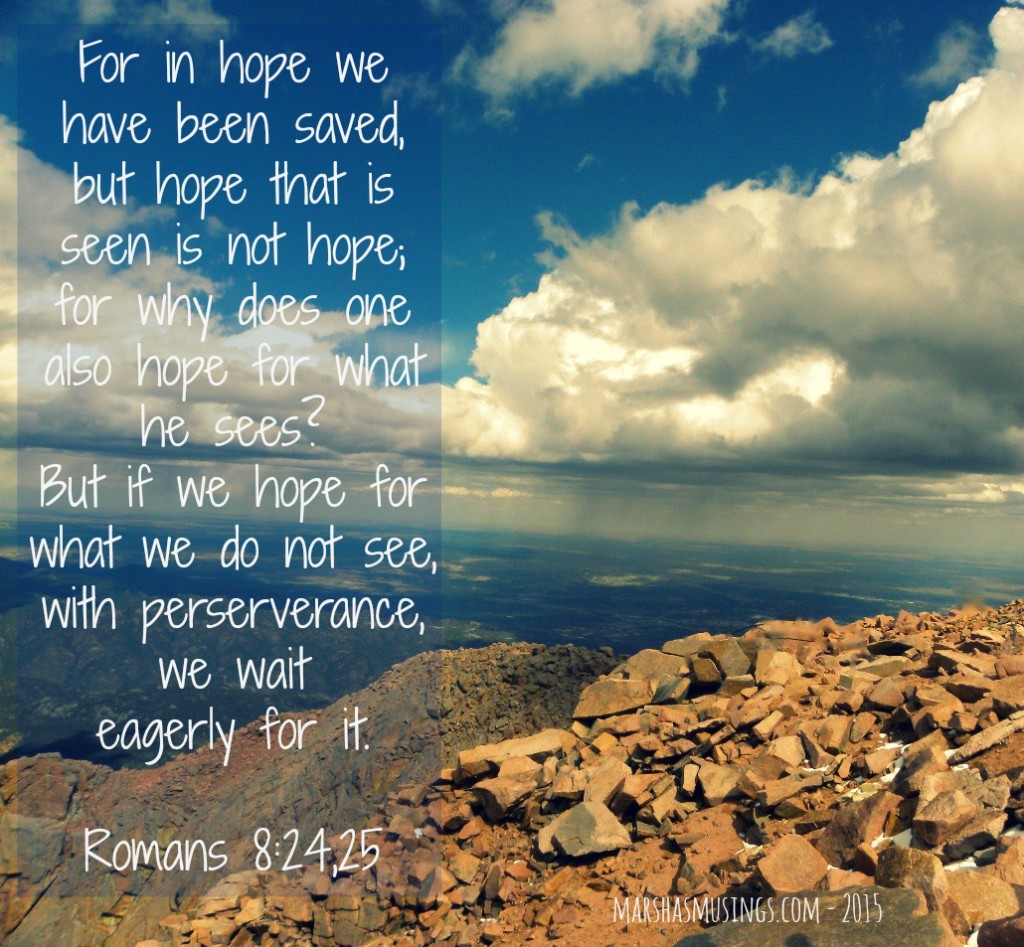 Feeling hopeless?
Wait for it.
Long for it.
There is Hope for the hopeless.
Our Deliverer is coming.
Hear His words of Hope for you today.
I understand, My child, when you are uncertain about My will,
when you cry out in the lonely moments of your despair for the life of a loved one,
for physical healing, healing of relationships that have gone awry like sprung coils;
cries in the midst of a storm; Dear one, do not lose heart, do not lose hope.
I Am Hope.
I give you more than future glory, I am your present glory.
I do hear you;
I do answer you.
My ears are not closed to your requests and your fervent prayers,
but you must have hope. Trust Me!
I know your heart, I hear you,
but My will cannot be flopped like a fish on the sand.
I cannot change because you fast, or plead,
or because you insist you know more than I.
Allow My written Word, which throbs with the Power of Hope,
to enter your mind and body like fresh blood in your veins,
new life in your thoughts.
Your hope of glory is in My Son,
the One who intercedes for you daily.
He ransomed and redeemed you,
and provided the hope of eternal life that I promised ages ago (and I cannot lie)?
And how will your soul relax in the trials of life
if you do not perceive in the far reaches of your mind
that I give you more than miracles?
When you have My mind, My wisdom, My knowledge, My understanding,
you will not panic at the threat of death.
Instead, you will march through it
as if it were only a valley, because I am with you.
Do not be afraid, My child.
Caress the sister of love, which is your gift of hope,
and bravely come through the darkness.
(These words were compiled from meditating on the following passages: Romans 15:4; Colossians 1:27; John 14:2,6; Romans 8:34; Colossians 1:5,23; Romans 5:2; 1 Thessalonians 5:8; Titus 1:2; Psalm 23:4)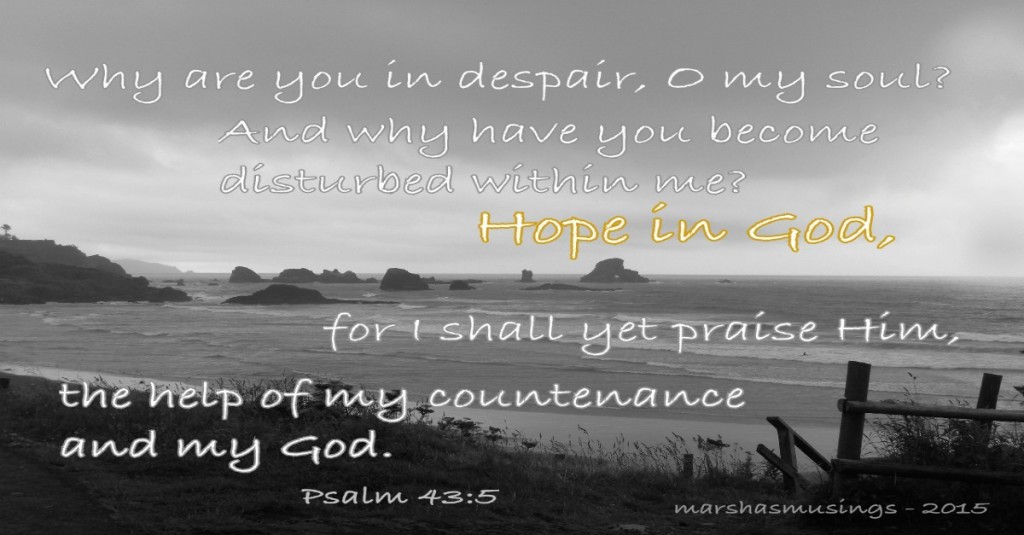 How may I pray for you? Feel free to leave it in the comments section below, or email me at Marsha@marshasmusings.com.