Oh, to have childlike faith!
We just finished a 4-day Kids Crusade at our church. I have been a part of many Kids outreaches over the years, but this is the first one that I actually coordinated and did the teaching for. After some very long and tiring hours, and months of planning, I have to say it was worth every penny spent, every prayer prayed and all the long hours setting up.
The kids came. They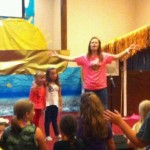 did crafts. They played games. They ate snacks. They laughed and sang with the puppets. And then they prayed and they worshipped like no other.
What can I say? It blessed my soul to see these little people rushing to the altar, lifting their hands, seeking God not just once but every single night! Over a 3 day period, we saw 44 little people say YES to Jesus with first time salvations and rededications!
One of the nights as I stood in awe of the awesome move of the Spirit among these children, I got an image in my head of our Sunday Morning Worship Services with the adults. Often times, we have to be "moved" by the music, or "wowed" by the preaching to say AMEN! Before we can jump up and rush to the altar, we have to feel the "goose bumps". If only we could have faith like that of a child. There would be no doubt. There would be no disorder. There would be no hesitation. We could worship like I believe God should be worshipped…with no boundaries!
"Truly, I say to you, whoever does not receive the kingdom of God like a child will not enter it at all." – Mark 10:15
Childlike faith – what is it to you?
Simply said, childlike faith is the wonder and awe at what Christ has done for us! Too many times we hear this quote from Jesus and we think about little children coming to Jesus rather than what it really means: for all (regardless of age) to see the world as exciting, adventurous and a blessing from God above. This scripture does not say we are to "act" like children towards one another, but our faith and example should be authentic. (also see Psalm 23; 131; Matthew 18:2-4; 34; John 10:1-18; 1 Corinthians 1:22-30)
Authenticity is what little people need. And they can spot it from a mile away. Reflecting on this past week's altar time with these little people, I had some thoughts on how we can learn from our children who have childlike faith and have authenticity in our walk with Christ:
1. RELATIONSHIP – If you were to ask a child to do something without an established relationship, they would probably be scared or even fight to get away from you. After all, isn't it true that from a young age on, we teach them to NOT talk to strangers? All of us are on a journey building a relationship with God, but at different stages. To ask someone without knowing God to have "childlike faith" is like asking that child to go with a stranger without kicking or fighting. Children will rarely follow instructions if they do not recognize our face. If you want to have childlike faith – You must know the face of God!
2. ASK QUESTIONS. One of the things about children that we can count on is that they will ask a billion questions. Why? Why? Why? As annoyed as you may get at this, remember that asking questions is a way that little people learn. You can never just answer a child's question by saying, "because" – that will only initiate more questions. If you want to have childlike faith – never grow weary of asking questions about God.
3. TRUST. Most children do not trust "just to trust," trust must be earned. If a child jumps into the pool thinking that their father will catch them, but their father drops them, most likely they will not be jumping into the pool any time soon. Trust is what I see clearly every Sunday in our nursery … for those who have earned trust with our little ones, we see it in their faces. No frowns. No crying. But for that newcomer, the babies first time, there may be some hesitancy because trust hasn't been earned yet. Trust is not always easy when it comes to leadership, but there is one Leader that we can trust and Who we should trust. Surely, if we are to have childlike faith, we ought to place our trust where trust has been earned…in Jesus Christ!
I don't know about you, but I want to have childlike faith! I want to have the tenderness in heart like these little ones have. I want to worship and seek God like no-one else is in the room or matters. I want child-like faith!