Dawn is our guest writer today. You can find her penning her thoughts over at  http://www.everydayordinarydawnings.blogspot.com/. Today, she shared the following devo with us: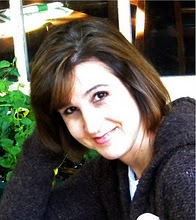 Forty-eight hours of non-stop catching up make for a weary woman. There's checkbook balancing at 11:00 pm, an application and a portfolio for a daughter's art audition to a summer arts consortium, and nothing defrosted for supper when it's 5:45. My son's book bag zipper is broken for yet another day of school, and the stacked mail on the counter reveals the need for a follow-up mammogram – another phone call, another appointment, and another concern.  It's a race to keep up with life's unfolding, and the clock ticks like a bomb.
On the way to the dog groomers, I notice it. Just noticing is a beautiful thing because I don't have time right now for noticing. After all, right now there are half packed bags for a youth retreat in the hallway upstairs, last night's dishes in my sink, and a cold, forgotten-but-longed-for cup of coffee in my microwave.
But there it was, at my favorite little red barn on the corner of my daily comings and goings: a postcard from God.  And I noticed.
On this cold winter morning that wasn't grey for a change, two horses, the pony, and the donkey — all the co-habitants together — were sun-bathing. They were stark still in the small sliver of barnyard that didn't fall in dawn's shadow. They weren't huddled, but they each had carefully crowded in to stand in the sun.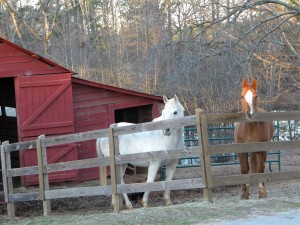 My Dear Child,                                                                                               Today
When a family's agenda crowds a life, when to do lists grow tails, when a life's  grown cold, just stop and stand in the warmth.  Position yourself to feel My presence and take it in, slow and still. No need to fret, the world will spin without your help. The sun always rises.
With My hugs and kisses, barnyard animals and sunrise,
Abba Father
But seek first His kingdom and His righteousness, and all these things will be added to you. So do not worry about tomorrow; for tomorrow will care for itself. Each day has enough trouble of its own.  ~Matthew 6:33-34 (NASB)
You can find more of Dawn's writings by checking out her blog: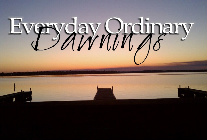 http://www.everydayordinarydawnings.blogspot.com/