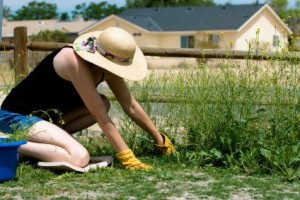 I spent several hours today tending my flower gardens.  I have to admit that I have neglected them for several days weeks which caused me to spend so much more time today……
weeding…..
"deadheading" and pruning…..
fertilizing……
and spraying for insects.
Just last month the flowers were beautiful and producing gorgeous blooms.  One month later, however, they were looking like they needed attention!  I marveled at how quickly pests moved in to feast on the beautiful flowers.  Due to several weeks of hot temperatures, weeds had sprung up like crazy.  And, because I had neglected to fertilize for several weeks, I wasn't getting the explosive bounty I had earlier this season.  As I worked this morning, I realized that my spiritual garden needed some tending as well.
I had been neglecting quiet time with my amazing God lately.
And….pests and weeds had crept in…..
negativity……
a spirit of complaining…..
an easily offended heart…..
a grumpy attitude.
I had allowed busyness and activity distract me from what was important.
I had not fertilized my heart in the Word.  I have not seen the bountiful fruit that comes from a well-fed heart.
I had not spent time in His presence, asking Him to prune away the dead parts of my life.
This morning as I worked in my garden, I realized that my "spiritual garden", the garden of my heart, also needs constant tending.  I need to spend time alone with God, pushing away all of the activity and distractions.  I need to water it with the Living Water.  I must feed it with the Word.  Then, my spiritual life WILL produce a beautiful, abundant bounty of fruit.
"I am the Vine; you are the branches.  If a man remains in me and I in him, he will bear much fruit.  Apart from Me you can do nothing." John 15:5
Father God, thank You that You are a patient, gracious Gardener.  You long for us to come to You to be watered and fed.  You want to remove the weeds and pests from our hearts.  Lord, thank You that You give us so many reminders of these Truths.  Lord, do what You need to do in my heart so that it produces a beautiful harvest.  In Jesus' Name we pray.  Amen.
Thirsty for Him,
Tracy
And please stop by my personal blog: