Trust in the Lord with all your heart,
and do not lean on your own understanding.
In all your ways acknowledge him,
and he will make straight your paths."
~ Proverbs 3:5-6 (ESV)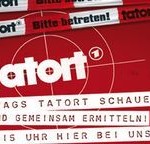 The other night I watched my all-time favorite, German TV show called Tatort (loosely translated "crime-scene"). The detective in this particular episode investigated a homicide that kept leading her back to her boyfriend she deeply loved. It was mind-boggling to her that the love of her life had anything to so with this particular crime. She interviewed people, and trusted her instincts. Unfortunately, she was misled by the real perpetrator, which in turn killed her boyfriend at the end of the episode. Commissar Lindholm was devastated that someone would misuse her trust to cover up the crime.
Have you ever trusted someone that you thought was trustworthy, but at the end it hurt you or someone you love? I have; it was painful; it almost wrecked my marriage. You see, 7 years ago someone accused my husband of an affair. All things pointed to it; I was ready to leave. After long talks with my husband and his assurance that this was all fabricated, I stayed in the marriage to work things out.
It has been a hard and long journey. I have been scared for life, but it also helped me to grow. As all came crashing down on me 7 years ago, I turned my heart and life to God. He was the only One I could trust during that time; all my friends distanced themselves from me (or was it me who took a step back?). I am glad that I did not trust my own first thoughts or instincts of leaving, but turned to Him who my path straight.
My dear friends, life can be hard or even devastating. Don't trust your own instincts, or even the words of others without proving them. Turn your heart and life to God. He is always there for you and He will lead you to make the right decisions.
Lord of Heaven and Earth. Thank You for Your love, mercy, and grace. Thank You for leading me and making my paths straight. Lord, I am asking You to comfort those who are hurting today. Lead them as you have lead me. In the precious name of Jesus ~ Amen.
Photo: 1st TV Station Germany – Content Copyright: Iris Nelson