Getting across the monkey bars
When I was a young girl, my favorite thing to do on the playground was climbing on the monkey bars. These metal bars always seemed to fascinate me. It was a challenge to me to see how long I could hang b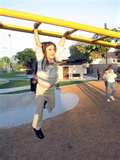 y my arms or legs. On days that I felt really strong, I would see how quickly I could cross the bars, moving one hand after another until I had crossed to the other side. Usually by the time I reached the middle section, my arms would get weak and my tired hands would begin to lose its grip. One day, I struggled and it just seemed like I could not  hold on any longer, until I felt the strong arms of someone grabbing me by the waist and holding me up so I could continue on to the other side without so much of a struggle.
 Hebrews 3: 14 (The Message) "If we can only keep our grip on the sure thing we started out with, we're in this with Christ for the long haul."
Having perseverance is understanding what "the long haul" means. It is staying on course. Finishing the race. Not becoming weary of doing good.
"And let us not lose heart and grow weary and faint in acting nobly and doing right, for in due time and at the appointed season we shall reap, if we do not loosen and relax our courage and faint." Galatians 6:9 (The Amplified Bible)
Many times, I have to admit, I grow weary. As a mother, as a wife, as an employee and yes, even as a Christian woman, I get tired! I grow faint and struggle to stay on course. Some days I just simply want to stay in bed with the covers pulled up, hidden away for nobody to find me. If I could just have one day of silence, one day of no pressures, no responsibilities, no "doing good" for others.
Physically we all get tired, but what about spiritually? Do you ever get weary in doing God's work? Sometimes there is more "ministry" than "time"and to be quite honest, sometimes I feel stretched in all that I am trying to do in my own strength. It is in these times that I feel like that little girl trying to cross the monkey bars again. I start out real strong but about midway thru…I get weary, and I wonder if I am going to make it to the end. Will I be able to finish this course I started?
It is at this very moment of weakness that I realize that doing ministry cannot be in my own strength. When it is, I will get tired every time and I will not be able persevere. In His strength, I can be strong. Midway thru my struggle, when I feel so weary and want to give up, is the exact moment that God grabs me by my waist and holds me up so I can reach the other side.
Does your life feel like you are crossing the monkey bars? Stay strong and when things get a little hard, reach down and feel God's grip – He will lighten your load as you persevere to the end!
Visit me for daily devotions over at WOMENTAKINGASTAND